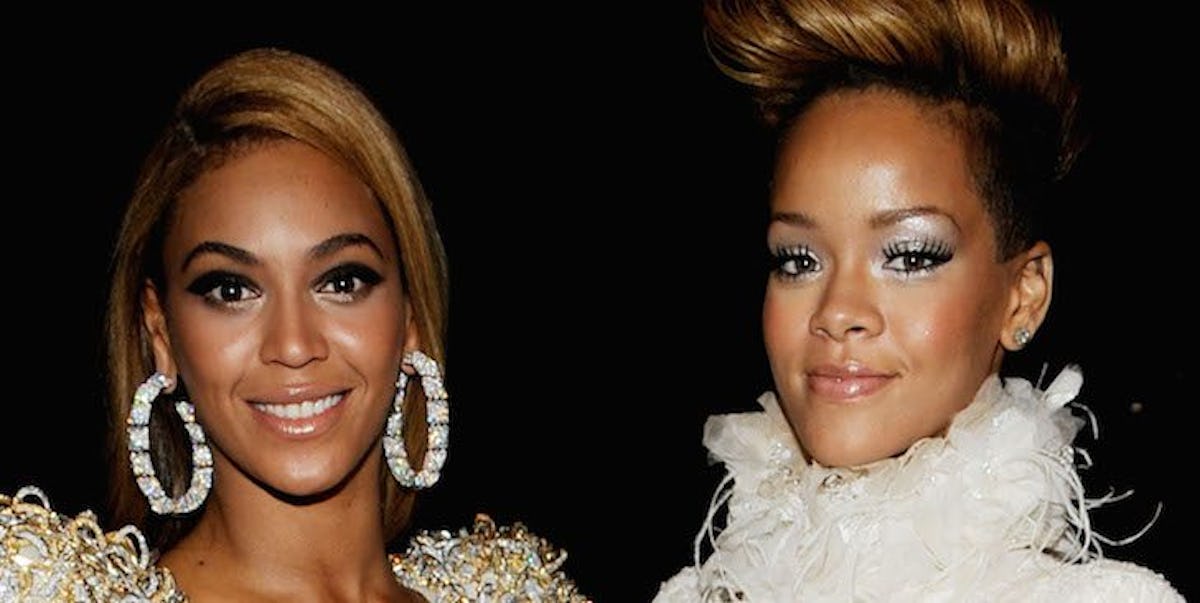 Beyoncé And Rihanna Hung Out Together And Twitter Is Losing It Over The Pic
Larry Busacca/Getty Images
Beyoncé and Rihanna hung out last night and there are photos to prove it! First, breathe, y'all. I'm well aware that this is one of the most epic hangs of all time, but the picture of Beyoncé and Rihanna together may very well make you lose your mind. At least, that's what happened on Twitter.
Let me set the scene: Beyoncé and Rihanna were on hand for the Clara Lionel Foundation Diamond Ball in New York City and lots of celeb types were there, including Leonardo DiCaprio, Dave Chappelle, and Kendrick Lamar. But all eyes were on Beyoncé and Rihanna.
Naturally, they looked totally flawless, with Bey showing off some massive cleavage and a thigh-high split in a gorgeous green gown. Her choice of minimal makeup was solid, as she definitely has that whole natural glow thing working for her. Rihanna, let me just say, as always, was just keeping it 100 percent, sporting an off-the-shoulder black gown with some major bling.
So now that you know what they were wearing, that they were existing in the same room, and that the world didn't implode from the whole awesome situation, let's get to that pic of the two pop stars, side by side, looking like total queens. No exaggeration.
Soak it all in:
People were definitely feeling it – in fact, some even believed this pairing could be a sign of good luck, with one fan tweeting: "Rare picture of Beyoncé and Rihanna, this only happens once a year or less, RT for good luck."
Another fan felt the healing powers of the pic, writing: "This picture of ri n bey just cured my depression." Powerful stuff.
The picture got some people inspired, with one fan tweeting: "i truly believe the only way to achieve world peace is for Beyoncé and Rihanna to FINALLY collab!! WE THE PPL DESERVE AND NEED THIS." Preach.
Still another fan believed we're all so deserving of this photo, tweeting: "Bey and RiRi at @rihanna's #DiamondBall last night. This is the pic we deserve, fam. Look at the glory. Happy Friday."
Another fan seemed a bit confused, tweeting: "I actually thought that picture of Riri and Bey that's been trending is a throw back."
Others were just seriously, seriously overwhelmed... summed up perfectly with this tweet:
And this collection of Bey and RiRi pics had some amazing throwbacks: "Beyoncé and Rihanna through the years! #TheQueens #BlackExcellence."
Oh, and Beyoncé also found a little time to take in Dear Evan Hansen and practically stop the hearts of the show's stars.
Dear Evan Hansen's Ben Platt shared one pic on Instagram, looking just in awe of Beyoncé, writing, "The alien called me an alien and I'm no longer living."
On Aug. 2, Platt tweeted about the possibility of conjuring the superstar and it looks like he has some serious powers: "I really think a part of me believes that if I warm up to @Beyonce enough times before @DearEvanHansen, I will conjure her. #PleaseCome." Holy hell, it worked.
His co-star, Laura Dreyfuss, posted a full cast pic with Beyoncé, writing: "I'm not okay" and a second photo that said, "God bless Beyonce."
Dreyfuss was still in shock the following day, writing on Twitter: "The bad things in the world can get me down, but one thing that gives me hope is that we're all existing at the same time as Beyoncé"
This day/night out on the town is Beyoncé's first appearance since she and Jay-Z welcomed twins Rumi and Sir Carter in June. How amazing did she look?
Check out the entire Gen Why series and other videos on Facebook and the Bustle app across Apple TV, Roku, and Amazon Fire TV.