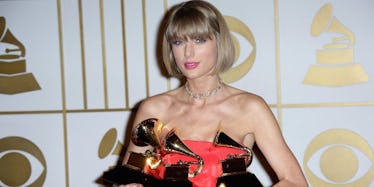 Little Girls Recite Taylor Swift's Kanye-Shaming Grammys Speech In Awkward Ad
REX/Shutterstock
America's top music award show is around the corner, which can only mean one thing: GRAMMY AWARD COMMERCIALS!!!!!!!!
OK, that's maybe not the most exciting part of the award show, but the Grammys released its first commercial for this year's event and, not going to lie, it's a weird one.
The ad features a bunch a bunch of girls reciting Taylor Swift's award speech from last year's honors.
If you missed the speech, here it is.
In the speech, she famously told viewers,
I want to say to all the young women out there, there are going to be people along the way who will try to undercut your success or take credit for your accomplishments or your fame, but, if you just focus on the work and you don't let those people sidetrack you, someday when you get where you're going you'll look around and you will know that it was you and the people who love you who put you there. And that will be the greatest feeling in the world. Thank you for this moment.
While this Grammy commercial utilizing the speech is an insanely powerful visual, it also makes zero sense.
It's like the entire PR team somehow forgot the rant she went on while accepting the award nearly tanked Taylor's entire career.
If you remember, the speech was in regard to lyrics from Kanye West's "Famous," where he sang,
I feel like me and Taylor might still have sex Why? I made that bitch famous (Goddamn) I made that bitch famous
You can see the semi-official music video with Aziz Ansari here.
Taylor had an issue with the lyrics and decided to voice her concerns at the Grammys, which is fine and brave except for the fact that she not only knew about the lyrics wayyyyy before the song came out, she even approved them.
Of course, somehow, Kim Kardashian had video of her giving Kanye the green light for some of the lyrics, and, of course, she uploaded the footage to Snapchat.
This whole debacle caused Taylor to tailspin for a few long months.
Why the Grammy committee decided to use this speech over literally every other speech ever given is beyond me. These girls chanting the Gettysburg Address would have been more appropriate.
Citations: Watch Real Girls Read Taylor Swifts Grammys Speech in This Powerful Short Film (Marie Claire)