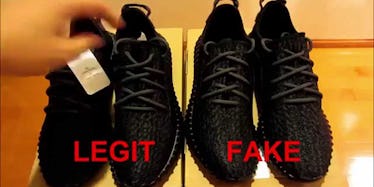 Here's How To Spot A Fake-Ass Pair Of Yeezy Boost 350 Sneakers
YouTube
It seems like everyone and their mama has a pair of Yeezys these days -- except for ya boy, but that's not the issue. The real problem is, with such high demand for these sneakers, the market is also being overrun with that fake sh*t.
In Brooklyn, you can buy fake Yeezys at the corner bodegas, and if you're looking online, you should probably know better than to try to cop a pair on Craigslist.
Believe it or not, people are walking around with Feezys on, and as you would guess, that's the sh*t that makes Kanye cringe.
If you're paying less than $250 for your Yeezys, that's a pretty telling sign you're not getting the real thing.
But when it comes to the sneaker itself, there are intricate details to look for to see if someone (or you) is rocking some fake sh*ts.
The people over at Klekt made a simple, seven-step guide to spotting bootleg Yeezys, which helps immensely. Don't ever play yourself.
Make sure the wave-like pattern is floating side to side.
Most replicas have this part all f*cked up.
Instead of the signature wavy pattern floating from left to right, they will, instead, have it going top to bottom.
The middle stitching should go all the way under the tip of the outsole.
You can test this by using your finger to see where the middle seam ends. It should be asymmetrical on each shoe.
The red heel tab should have nine stitch points on the center box.
The back stitching is where a lot of bootlegs reveal themselves. You should find stitching on both sides of the heel tab.
The sewed side boxes should have five red stitch spots, while each center box has nine. Another way to tell is that the spacing between the tab and collar is one centimeter.
The inner rubber sole has seven flower-like embossings.
Firstly, the white inner rubber sole should be a different material from the rest of the black outer sole. There are also seven, flower-like dotted embossings, which should be placed in certain areas (circled in red above).
The insoles should be going in opposite directions both on top and bottom.
This one is straight-forward. If the logos aren't reflective side by side, you sick.
The grey on the laces should be lighter than the rest of the shoe.
The design on the laces is different from that on the actual sneaker and resembles something like a cross. It should also be a tone lighter than the other pattern.
Make sure the tag exactly matches the one on the box.
The label inside the shoe should be smooth, with absolutely no bumps on the edges. If it doesn't match the box, it could be a wrap.
If you saw something different on your pair (or someone else's), then Kanye has a very special message for you!