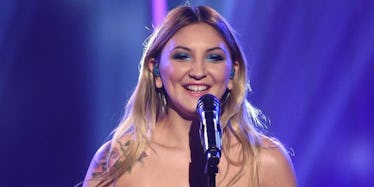 Here's How Selena Gomez Is Connected To VMA Performer Julia Michaels
Jamie McCarthy/Getty Images
The 2017 MTV Video Music Awards are almost here, with it comes a whole slew of questions, mainly, who the frick are all these people? Somehow the VMAs went from Beyoncé and Kanye to 80 percent people I don't recognize. Take, for instance, Julia Michaels, who is apparently nominated for Best New Artist. Who is Julia Michaels? I had to do some extensive searching, so here's a few things that I learned.
1. She helped write Selena Gomez's "Bad Liar."
Though she is only 23, Michaels has already had an impressive career as a songwriter. Some of her most recent songwriting work has been for none other than Selena Gomez. Michaels wrote "Bad Liar" alongside Justin Tranter, and it was Michaels' idea to add the baseline from Talking Heads' "Psycho Killer" to the track.
2. She's also worked with Justin Bieber, Nick Jonas, Gwen Stefani, Ed Sheeran, and more.
You've heard "Sorry" by the Biebs, right? And "Close" by Nick Jonas? And "Used to Love You" by Gwen Stefani? Julia Michaels helped write all of those songs! So don't doubt her talent.
3. Her debut hit single is "Issues," and it's really, really good.
Seriously, if you haven't heard it yet, definitely give it a listen. This is everything I want pop to be. Also, can you hear the similarity to "Bad Liar?"
4. She's got another single, "Uh huh," which is also a bop.
The video just came out a few weeks ago.
5. She was really excited when she found out she was nominated for Best New Artist at the 2017 VMAs.
This is adorable.
6. Her debut EP, Nervous System came out on July 28.
The EP has seven songs from Michaels, including "Issues" and "Uh Huh," and you can buy it on iTunes now!
Michaels is up against Kodak Black, SZA, MC Young M.A., Khalid, and Noah Cyrus for Best New Artist. Vote now if you so choose!