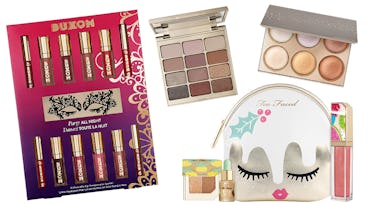 Ulta's Holiday Beauty Blitz Sale Includes 50 Percent Off Stila, Tarte, & So Many More Buys
Ulta
Black Friday, who? December is here, and the only shopping event I'm interested in talking about is Ulta's 2018 Holiday Beauty Blitz Sale, which consists of a whopping 25 days of deals and discounts. After treating us to multiple major sales events this year — their Fall Haul, the 21 Days of Beauty, et cetera — they really didn't have to spoil us like this, but holiday gifting season is upon us and I need to stock up for my friends and family, so I'm really glad they did.
The Holiday Beauty Blitz Sale is an online and in-store event, consisting of consecutive sales that span from December 1 through December 25. Each day there will be savings on a different brand or group of products, and as every new week approaches, the specific discounts will be revealed. As of now, week one (aka December 1 through December 8) has been revealed, and there's already some incredible items worth snagging, so I can't even imagine what we're in for throughout the rest of the month.
Me, fully aware that I'm about to participate in all 25 days of this sale:
So, what's in store for week one? A lot of major brands, must-have palettes, holiday lippies, and more. We find ourselves now on December 3, with 50 percent off Stila Cosmetics eyeshadow palettes, and I for one can't resist the iconic Matte 'N Metal Eye Shadow Palette ($25, originally $50, ulta.com). It has the perfect balance of twelve matte and metallic neutral shades to create a very Ashley Graham-esque smokey eye, which is what I'll be doing now that I've added it to cart.
On December 4, lippie lovers can treat themselves to a lip vault that, while beautiful, will definitely make it hard for you to pick just one shade to wear to your holiday party. But you can always go to multiple parties, right? New Year's Eve is fast approaching! The Buxom Party All Night 12-Piece Mini Lip Plumpers Plus Eye Veil Set ($25, originally $50, ulta.com) is a $125 value, and in addition to four Lip Creams, four Lip Polishes, and four Lip Liners, there's also a Masquerade Face Veil, in case you're tryna be a little mysterious when it comes to locking in your New Year's kiss.
Moving right along, December 5 is basically the ultimate day for stocking stuffers, with 50 percent off all of Smashbox's holiday kits. One of my favorites has to be the Holidaze: Photo Finish Travel Primer Trio ($15, originally $22, ulta.com), a $45 value which contains mini versions of fan favorite Photo Finish products like the Smooth + Blur Primer, the Primerizer, and the Primer Water. If you already know someone who swears by these Smashbox essentials, treating them to their go-tos in fun holiday packaging is a guaranteed great gift.
The December 6 deal is not to be missed, especially if you're a Tarte fan. The brand's Double Duty Beauty The Lip Sculptor Double Ended Lipstick & Gloss ($12, originally $24, ulta.com) will be 50 percent off, and since the Double Duty Beauty line is an Ulta exclusive, you won't find this deal on Sephora anytime soon. There's sixteen shades in total, so take your pick.
December 7's deal is valued at $56, and it's the exclusive and limited edition Too Faced Tutti Frutti Christmas Fruit Cake Makeup Collection ($15, originally $30, ulta.com). This set includes a fruit cake makeup bag (aka the only form of fruit cake I'll be partaking in this holiday season, thank you very much), a mini Juicy Fruits Comfort Lip Glaze in shade "Fruit Cake," a deluxe sample size of the Fresh Squeezed Highlighting Drops in shade "Piña Colada," and a deluxe sample size of the Pineapple Paradise Strobing Bronzer Highlighting Duo. It's holiday-themed, but the resulting glow will definitely start rumors that you spent Christmas this year getting a tan in the tropics.
Last but certainly not least, week one rounds out with 40 percent off of BareMinerals holiday kits, of which I can't stop staring at the Stellar Glow 6-Shade Mega-Highlighting Palette ($27, originally $45, ulta.com). This stunner is a $96 value containing six brand new shimmering hues of highlight that can be used wet or dry to achieve the glow of your dreams — you know what they say: shine bright like a string of Christmas lights!
It's only week one of this 25-day-long sale, and I already want everything. Thank you, Ulta, for blessing us yet again with an incredible sales event to get excited about, and if any of my friends are reading this, LMK what you want, because your gifts will definitely be purchased from Ulta this year.