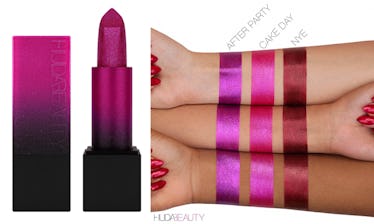 Huda Beauty Is Launching Its First-Ever Bullet Lipstick, & If You Love Glitter, You'll Love This
When Huda Kattan, the makeup-artist-turned-beauty influencer, decided to turn her namesake blog into a full-on makeup empire, the entire industry took notice. She started with a collection of wildly popular eyelash strips, and ever since, the company has grown to a full range of items that run the gamut from makeup primer to highlighter palettes. And while her liquid lipsticks are a major part of her company's success, she's never showed any interest in launching a more traditional bullet form... until now. Huda Beauty's new Power Bullet Lipstick is the soon-to-be newest addition to the makeup mogul's product roster.
Kattan took to her Instagram page to break the news of the upcoming launch. The post includes two videos, with the caption, "Hey Angels! These glittery beauties are launching next! ✨✨✨ YES we are coming out with lipsticks! 💄💃🏻 Who's excited? SWIPE left to hear more! #HudaBeautyPowerBullet." In the first video, we see a handful of lipsticks (though some of the shades seem to be repeats) shimmering under the popular KiraKira filter. In the second video, she filmed three lipstick shades lined up side by side, and even though it appeared she didn't use KiraKira in this one, the lipsticks still looked like solid sticks of glitter.
In the vid, Kattan mentioned the new Metallic Power Bullet Lipsticks are limited edition for the holiday and are all named after a different occasion. Kattan held up one of the shades called "NYE." Upon further investigation on her blog, this shade is actually a "dramatic red with vampy undertones and sparkling flecks of gold and red glitter." Next, Kattan pointed to a purple-toned lipstick with iridescent berry, blue, and silver glitter called "Afterparty," and, finally, a magenta pink color infused with blue and silver glitter called "Cake Day," which Kattan said is "perfect for birthday parties or anything you want to celebrate."
NYE
Afterparty
Cake Day
"Nothing says celebration like shimmers, and we really wanted to give the effect of loose glitter without all the mess and grit. So we created a revolutionary new formula that combines stunning multi-reflective glitter, rich pearl pigments, and iridescent shimmers, all packed into a diamond-shaped bullet to make shaping your lips extra easy," reads the announcement on Huda Beauty's website. "The result is a super smooth satin effect, with the ultimate party-essential; a glitter finish."
The blog post also says that creating a long-wear formula was "super important" to Kattan, as "nothing kills your vibe like having to reapply in the middle of a party." The post also adds that the formula is infused with Brazilian nut and sweet almond oils to protect, nourish your lips, and lock in moisture. The brand ensures that the glittery lipstick glides on easily without skipping or dragging.
And luckily for us, the brand even shared swatches on a few different skin tones. Peep these new glittery shades in all their glory:
I admit, the swatches look more metallic than glittery (which, judging from the name, might be accurate), but I'll have to wait until they launch on Dec. 3, 2018, to experience the glitter power firsthand. The new limited-edition Huda Beauty Metallic Power Bullet lipsticks will be available on shophudabeauty.com and Sephora for $20.