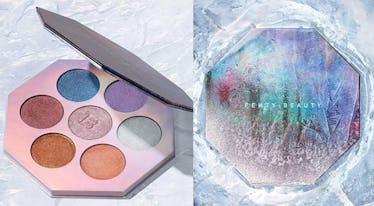 The Fenty Beauty Highlighter Palette From Their Holiday Collection Is RiRi's Glowiest Gift To Us Yet
Courtesy of Fenty Beauty
Is it too early to start obsessing over holiday beauty collections? Considering we haven't even hit Halloween yet, I'd normally refrain from being this hyped up, but after seeing the Fenty Beauty highlighter palette from the brand's holiday collection, my wig has been snatched and my chill has disappeared for good. No, really, it's that beautiful — and if it's any indication of what the rest of the collection will be like, then I need more time to prepare, because Fenty is about to hit us with some luxe glittery goodness like you wouldn't believe.
After surprising us with the launch of four new shades of the already-iconic Stunna Lip Paint ($24, fentybeauty.com) just last week, I was in no way expecting buzz about Fenty Beauty's holiday collection to start so soon. Give me a second to catch my breath, RiRi, there are too many products taking my breath away and I can't keep up! According to the brand's recent Instagram posts, the holiday line will be called the CHILLOWT collection, and the vibes are all about fire and ice. So, what's starting off the lineup? The very first Killawatt Foil Palette, so prepare your wigs for snatching.
In the sneak peak of the new release, the brand describes the shades in the Killawatt Foil Palette as "hyper-metallic," and just by the looks of it, I can safely assume they didn't hold back when it came to sparkle and pigmentation:
Are 👏 you 👏 seeing 👏 what 👏 I'm 👏 seeing? Okay, wow. The seven-pan, octagonal palette features a variety of shades from a frosty white to a brilliant blue, and I need to swatch them all ASAP. A few look similar to shades that currently exist in the Killawatt lineup — the white slightly resembles the new Diamond Bomb ($38, fentybeauty.com), and the purple and pink shades remind me of the Killawatt Foil Highlighter Duo in shade "7daywknd/poolside" ($36, fentybeauty.com) from the summer collection — but even if a few turn out to be repeats, there's definitely quite a bit of newness to behold as well. One example is that glittery red shade, which, when I look at the palette's packaging, starts to serve me serious iced-out volcano-glam vibes. Is volcano-glam a thing? It would be so RiRi to make volcano-glam a thing. The theme of the collection is fire and ice-inspired, after all, so it's likely we'll see both cool and warm tones played up and combined throughout the product line and its packaging.
Thank you, Rihanna, for making it your personal mission to keep our beauty game as on point as it can possibly be. We're not worthy!
"I JUST BOUGHT YOU MOROCCAN SPICE AND THEY COME OUT W THIS AHHHHH," said one thrilled commentor. Another praised RiRi's hard work and clear dedication to the brand, noting: "Rihanna is killing the makeup game since the launch of Fenty beauty! 🔥🔥🔥🔥🔥🔥🔥."
And then we were treated to the magic that is this promotional shot, featuring RiRi rocking icy purple and pink vibes. Is Rihanna the new Elsa? I'm getting super-luxe Frozen vibes:
In the swatch post, Fenty notes that the shades are "#CuffingSeasonProof," which basically means they will stay on no matter what, if you catch my drift.
That's a good thing, considering you're bound to attract attention when rocking any of these highly pigmented shades!
What to do if you're a fan of the brand but aren't loving these statement colors? Don't stress! Fenty has quite a few neutral highlighters — the Killawatt Highlighter in "Mean Money/Hu$tla Baby" ($34, fentybeauty.com) is a must that works on all skin tones — so if this new launch is a little too wild for your taste, you can definitely indulge in other products instead. Plus, we've got an entire holiday collection coming to accompany this one palette, and you're practically guaranteed to like something else in the CHILLOWT line.
As for me personally, I think this palette is a bomb product for Fenty's holiday line, and I can't wait to get creative and use these shades all over my face and eyes, regardless of the haters. The Killawatt Foil Palette launches on October 12 at Sephora, Sephora in JC Penny, Harvey Nichols, and the Fenty Beauty site. I predict that the 2018 holiday season will be one of glittery, glowing highlights, and thanks to Rihanna, we're already off to a great start.