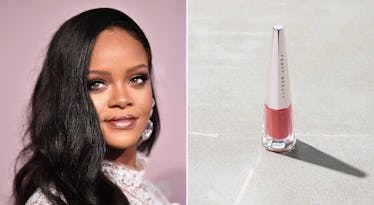 Fenty Beauty Is Dropping More Shades Of Stunna Lip Paint & Here's Every Single One So Far
Dimitrios Kambouris/Getty Images Entertainment/Getty Images // Fenty Beauty
It's been almost a year since we first saw Rihanna add to the Fenty Beauty fam with the launch of the first Stunna Lip Paint, "Uncensored," a perfect ruby red. So perfect, in fact, that it was the only Stunna Lip Shade available for the past year... that is, until about a week ago when the brand began #STUNNAWEEK, which started a slew of new shade additions to the Stunna Lip Paint line. Now, each new universal lip hue in the collection, from browns to peaches and everything on between, only adds to Fenty Beauty's ever-inclusive line of 40 foundation shades, ultra-illuminating highlighters, highly-pigmented eyeshadows, lipglosses, and more.
All the latest additions to the Stunna Lip Paint family retail for $24, are available now on FentyBeauty.com and Sephora.com, and will be available in-store at Sephora come Oct. 1. And if the rapid release of the new shades over the course of the past few days is any indication of how the rest of the week will play out, I'm willing to bet we'll see even more exciting Stunna Lip Paint drops before #STUNNAWEEK is over.
So stay tuned in to this space to read about each new shade as it becomes available. And in the mean time, read on to find out a little bit more about each soft matte lippie.
"Uncensored"
"Unveil"
"Uncuffed"
"Unbutton"
"Uninvited"
With the announcement of each new shade, the Fenty Beauty team has been taking to the brand's Instagram account with an image of the newest lip paint, followed by the hue being put to the swatch test on four different skin tones, so that customers of all pigmentations can see how the new shade will look against their skin — which is obviously flawless. After each Lip Paint launch, the brand has also posted an image of RiRi herself rocking the new shade. My advice? If you're an avid Fenty Beauty fan who loves a good matte lip, keep an eye on the Fenty Beauty Instagram (@FentyBeaty), to be the first to know about the launches to come throughout the rest of #STUNNAWEEK.