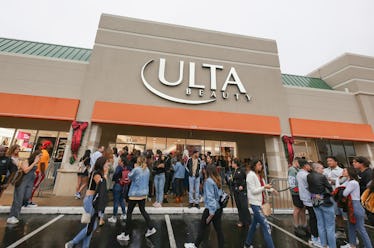 Ulta's Cyber Monday Sale Means You Can Score 180 Deals & Discounts On Your Fave Brands
Rick Kern/Getty Images Entertainment/Getty Images
The day is finally here: Cyber Monday 2018, aka the most unproductive Monday of the entire year. The Mondayest Monday that is so unproductive partially because you've likely spent the long weekend overindulging on turkey, pumpkin pie, and alcohol. Returning to the office is painful, partially because you're planning on spending the work day perusing the endless sales that the internet has to offer instead of actually doing your job. Well, be prepared to get even less work done now that Ulta's 2018 Cyber Monday Sale has started.
This year, the beauty retailer is offering an incredible 180 deals and discounts on a long list of your favorite brands on Ulta.com. But you have to act fast and take advantage of these deals ASAP — unlike a lot of other beauty Cyber Monday sales, Ulta's sale ends Tuesday, Nov. 27 at 2 a.m. CT.
If you're wondering what kind of discounts you'll find throughout Ulta's website on Cyber Monday, then buckle up and prepare your bank account because the list is a long one. First, you can get up to 50 percent off of products from brands like Urban Decay, Benefit, Dose of Colors, Morphe, Redken, Too Faced, Mario Badescu, Tarte and more.
Then, you can receive $10 off of any qualifying online purchase of $50 or more with the code "CYBERMON18". In addition to those deals, if you spend $35 or more then you can receive free shipping. And then for every $100 you spend on Ulta gift cards then you qualify for a $20 eReward card. Just note that you have to use the eReward card on Cyber Monday, but with deals like these, I don't think that it will be hard to find products to spend it on.
Finally, Ulta is also offering a few gift with purchase deals this Cyber Monday. With any $75 online purchase, you will receive a free 22-piece beauty bag packed with samples that are worth over $100. Then, when you spend $50 or more on fragrances then you can receive your choice of either a luxury robe or a plush throw blanket, both options are perfect for re-gifting to that cozy person on your holiday shopping list.
If 180 deals sounds overwhelming to you, then allow me to break down some of the best offers that you can take advantage of right now on Ulta.com. Read on for the best picks that you should add to your virtual shopping cart.
50 percent off of some Urban Decay products:
You can shop 50 percent off of some Urban Decay products on Ulta.com this Cyber Monday, meaning you can score the Moondust Eyeshadow Palette for just $24.50.
50 percent off of some Benefit Products:
If you're a Benefit Cosmetics-lover then you can score their Roller Lash Curling & Lifting Mascara for just $12.50 this Cyber Monday.
25 percent off of the entire Mario Badescu brand:
This Cyber Monday, you can score 25 percent off of all Mario Badescu products on Ulta.com, meaning you can get the cult-favorite Mario Badescu Facial Spray With Aloe, Herbs, and Rosewater for just $5.25.
All Matrix products for just $7.99:
Cyber Monday on Ulta.com means that you can snag any and all Matrix products for just $7.99. My personal favorite Matrix buy is this Matrix Biolage R.A.W. Heat Styling Primer that is made with coconut milk and smells amazing. The primer is lightweight for easy styling, but gives major protection. You won't ever want to use a hot tool without it.