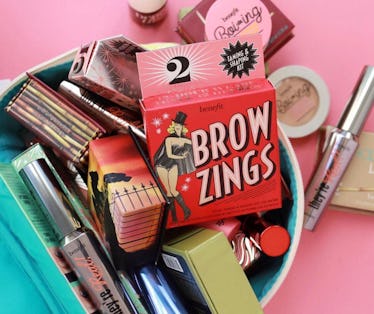 Benefit Cosmetics Is Offering 25 Percent Off Everything For Black Friday & It's A True Gift
If, like me, you're drowning in sales opportunities over the next few days, I honestly don't know if you'll be happy or sad to hear about Benefit Cosmetics' Black Friday 2018 sale, because it's pretty darn great, and I guarantee you'll be tempted to spend. When it does come down to making a game-time decision about which deals are really worth prioritizing, I think you'll find that Benefit's are some of the best, and I can definitely say I'll be hitting up their site come Black Friday and Cyber Monday and reaping the benefits — pun absolutely intended.
Before Benefit first announced their Black Friday sale, I eagerly waited in anticipation of what they could be offering. I mean, they already offer some of the most iconic beauty buys in the world— seriously, whose first makeup bag didn't include a well-loved Hoola Bronzer ($30, benefitcosmetics.com)? What's not to love? What more could they possibly do to appease us mere beauty peasants?
Well, get ready, because you're about to go so, so broke. Benefit has officially announced their Black Friday 2018 sale, which features 25 percent off of virtually everything at Benefit Boutiques and sitewide, using the code BENEBINGE. Even more, you can score free shipping during this sale as well. Needless to say, I am more than impressed — and overwhelmed with the amount of things I can save on.
If you, too, are overwhelmed and need a little bit of guidance on some of the best beauty buys to snag during this sale, keep reading for some of the hottest picks.
Sunny Delight
No sparkle, no shine, just a good old just-from-the-beach (but not) bronzed glow.
Arch Support
The power of the brow should never be underestimated and Benefit's brow gel will help you get your best arches ever. It tints, shapes, and tames, meaning your perfect brows will last all day.
Primer Time
This oil-free primer minimizes the appearances of pores and fine lines and helps makeup stay put all day. No filter needed!
Bright Idea
Shine bright light a diamond...or like a lightbulb? This creamy highlighter boasts a powdery finish and the perfect champagne glow. It's the perfect finishing touch for nights out, so snag one before New Year's Eve and you'll shine like a disco ball all night long.
Coming Up Rosy
I love a good two-in-one product and this lip and cheek stain is one of the best. It'll give your lips that faded and effortless effect while your cheeks will be left with a natural looking flush. It's sheer, long-lasting, and foolproof. What more could you want?
Green Gains
Thanks to its blend of hydrating botanicals extracts and loquat extract, this cream helps to fade dark circles and smooth fine lines for bright and well-rested looking skin—even if you were out all night.
The Cover Up
This full-coverage concealer is great for dark circles and breakouts alike and is guaranteed to stay in place all day. It's super compact and fits inside any purse perfectly. Think of it as your skin-boosting sidekick.