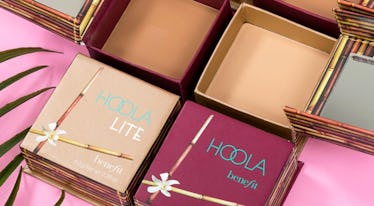 Benefit's Hoola Bronzer Is On Sale At Ulta RN, So Stop What You're Doing & Start Shopping
Have you ever been going about your day, living your life as usual, and had to suddenly drop everything in the name of a good sale? As an obsessive online shopper, I know this feeling all too well, and when I found out earlier today that Benefit's Hoola Bronzer is on sale at Ulta at this very moment, I knew today would be yet another day that I left my beauty-loving, online-shopping tendencies get the best of me. What can I say? A good bronzer is worth it, and Benefit's is the best.
The Hoola Matte Bronzer ($15, originally $30, ulta.com) has been a staple in the makeup bags of many since its launch — at least, it feels that way to me. Pretty much everyone I know who's tried the little boxed powder has given it rave reviews, and the demand for the fab formula even inspired a Hoola Lite Matte Bronzing Powder ($15, originally $30, ulta.com), so paler peeps could get in on the bronzing goodness. There's no word yet on any Hoola shade specifically for deeper skin tones in the works, but based on the hero product's popularity, I've got my fingers crossed we'll see one soon, because everyone needs a little Hoola in their life, IMHO.
Apparently, Ulta agrees with me about everyone needing Hoola, since they've decided to generously offer the must-have product for 50 percent off:
Exciting, right? I'm not sure what we did to deserve these blessings, but thank you, Ulta, and thank you, Benefit. You can't see me right now, but know I'm doing a literal hula dance to celebrate this exciting occasion.
It looks something like this, if you're curious:
Keep in mind, the boxed bronzers are on sale today, Sep. 5, only, so if it's Sep. 6 and you're reading this, it's too late. Hopefully that Drake reference cushions the blow of you being late to the sale. (Of course, you can always still snag the bronzer at full price.) But if it is Sep. 5 as you're reading this, hurry! Go to your nearest Ulta, or log onto the Ulta website ASAP!
Perhaps you're wondering, why the glorious, half-off discount? The Hoola deal is part of Ulta's 21 Days of Beauty, an annual sale event where top brands and products are available at otherwise unimaginable discounts, aka every beauty-lover's wildest dream.
The huge sale is a perfect time to stock up on discounted items, but while you're browsing, you might be tempted to add a few regularly-priced items to your cart as well. Who can blame you? Not I.
If you're already Hoola-obsessed and well-stocked on the bronzer, might I direct you to another one of my favorites from the Hoola range:
The Hoola Cream-to-Powder Quickie Contour Stick ($28, ulta.com) is for those of us who love the Hoola shade, but prefer a cream formula over powder. It's not part of the sale, but at $28, it's $2 cheaper than the boxed bronzer at full price, so there are still some savings, if you need to rationalize buying it. As someone who finds cream products way easier to blend, picking this up was a no-brainer after discovering how much I loved the original Hoola.
OK, OK — I'm done raving about this bronzer. But for real, the clock is ticking, and the discount ends tonight, so if you're in need of some Hoola, hit up Ulta now for their incredible half-off deal!