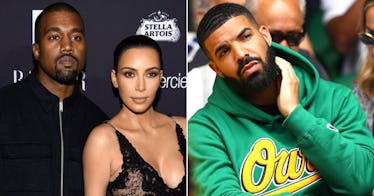 Kanye West Just Tweeted At Drake Amid Rumors He Hooked Up With Kim Kardashian
Dimitrios Kambouris/Getty Images; Michael Steele/Getty Images
I'm sensing a change in the winds this coming year for Kanye West. In the last few weeks, I've been surprised to see Kanye opening up about a lot of things and even apologizing for some of the comments he's made in the past surrounding some sensitive topics. Now, he's expressing his sincere regrets to rapper Drake on Twitter, and let me tell you, it is a lot to take in. But I have to say that I find this all to be pretty damn mature for someone like Yeezy. I'm not going to lie, I'm impressed about this new leaf that he's trying to turn over, and honestly, Kanye West's tweets apologizing to Drake show that he's really trying to make a change.
And the timing is not lost on me, you guys. This all comes just days after West's wife, Kim Kardashian, shut down the rumors that she and Drake once had a romantic relationship.
"Never happened. End of story," the Keeping Up with the Kardashians star wrote on Instagram, after a video of DJ Akademiks and Nick Cannon appeared on Instagram account The Shade Room speculating that she and Drake may have had a ~thing~, and that's why he and Kanye West have had beef.
But still, the fact that West is owning up to his mistakes and is publicly trying to reconcile certainly counts for something.
The beef between Drake and Kanye West came to a head when rumors started going around that he was the one who told Pusha T that Drake was reportedly hiding the fact that he has a child. To recap things super quickly, the feuding between Drake and Pusha T goes way back, but their most recent issues stemmed from when Pusha T released a song called "The Story Of Adidon" in May 2018, claiming that Drake fathered a child. Elite Daily reached out to Drake's team for confirmation, but did not hear back by the time of publication.
And, while Drake's newest album, Scorpion, has some speculating that there may be some truth to those rumors, it still made everyone wonder where exactly Pusha T got his intel from. Elite Daily reached out to Drake's team for comment on the baby rumors at the time, but did not hear back by the time of publication. Many claimed that it was Kanye who told Pusha T that Drake reportedly had a child, but in his interview with radio station 107.5 WGCI Chicago on Wednesday, Aug. 28, he put those rumors to bed, insisting that he was not the one who spread the gossip. He said, "No, I didn't. Don't pull me into this conversation. I'm 'Ye. I got major things to do other than be telling him some information about Drake … I honestly don't care that much, in all honesty."
He also added that he and Drake will "reconcile that one day because we got to," adding, "We got work to do because these voices are just too powerful."
But the real apology came in a slew of tweets in the early morning hours of Sept. 5. In his first tweet, West sent "good energy and love" to Drake:
Sending good energy and love to Drake and family and crew I haven't seen the show in person but the images look incredible online I understand where the confusion started
From there, he went into full confession mode. "Let me start by apologizing for stepping on your release date in the first place," West tweeted, adding, "We were building a bond and working on music together including squashing the issues with Cudi at our office":
West then noted that he was "ramped up" when he put out the dates, and that shortly after, he went onto TMZ and made those comments about slavery:
He then sent out a series of tweets, apologizing for not offering Drake the opportunity to work together on his song "Lift Yourself" that he released on his own in April, as well as mentioning the situation between himself and Pusha T. He wrote,
because we spoke about doing Lift Yourself together I should have given you the opportunity for us to do this together before I released it ... since we were building as friends and brothers I should have spoken to Pusha about the Quentin Miller bar. There should have been no songs with my involvement that had any negative energy towards you ... I never listened to either diss track that followed but I did hear quotes from both songs after they were released
West then reiterates the fact that he was not the one who spoke with Pusha T regarding Drake's reported child. In a series of tweets, he wrote,
I did not have any conversations about your child with Pusha. I don't play with the idea of people's children after I spoke to Wiz a few years earlier. ... I understand Pusha's issues as a man if someone mentions your fiancé men go mask off. I've done the same myself at times. I love you and I love Pusha and we all have an admiration for each other's craft.
He then finished his series of tweets by writing, "This is all Jedi level. I will be coming to your show within the next seven days to give love and be inspired by the art you have created":
The jury is still out on whether or not Drake will accept West's apology, but Yeezy should at least get some points for trying.