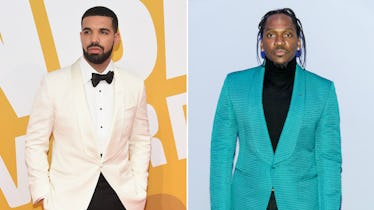 Here's The Full Story On Why Drake & Pusha T Are Beefing So Hard
Jamie McCarthy & Roy Rochlin/Getty Images Entertainment/Getty Images
Everybody settle in because we have a hip-hop beef saga to break down. There is serious drama between rappers Drake and Pusha T and if you haven't been paying close attention it might seem dense as hell. What's going on between Drake and Pusha T involves many intricate layers in the music industry plus a potential baby scandal with a little sprinkling of Kanye West. Does that sound like your cup of tea? If so, take your lunch break now and walk with me, reader.
I want to make it super clear that I am by no means a rap expert, music connoisseur, or even that much of a Drake fan. (There, I said it.) But, I do write for the internet on topics like entertainment and pop culture, making Pusha T and Drake's beef right up my interest-alley. In doing a deep dive into their history, here's what I've learned: It all kind of starts with Lil Wayne. Way back in the day (like, 2006), Pusha was part of a group called Clipse. Clipse regularly repped the clothing brand BAPE and became all bent out of shape when Lil Wayne appeared on the cover of Vibe magazine rocking the brand. The conflict would end up going a little deeper, as Wayne and Pusha T eventually went on to drag each other in various tracks and call each other out in their music.
Easy enough so far, right?
Fast forward and Drake joins Wayne's label, Young Money Entertainment, which puts him on Pusha T's radar as fresh meat. Due to this, Drake and Pusha T went on to take shots at one another in their music, too, as part of the extended rivalry. One of the bigger blows came in Pusha T's song "H.G.T.V." when he called Drake out for using ghostwriters. Obviously, this ruffled Drake's feathers and strengthened their feud.
And now, we're here. Everyone with me so far?
Pusha T just released a new album titled Daytona and brought up the whole ghostwriters thing again. Back in 2015, Meek Mill accused Drake of using a writer named Quentin Miller to craft his lyrics. However, according to MTV, in a letter on his Tumblr page on July 24, 2015, Miller wrote, "I am not and never will be a 'ghostwriter' for Drake. I'm proud to say that we've collaborated but I could never take credit for anything other than the few songs we worked on together." Well, on Pusha's new track "Infrared" from May 25, 2018, he directly addressed Drake with the lyrics:
The lyric pennin' equals the Trumps winnin' / The bigger question is how the Russians did it / It was written like Nas but it came from Quentin
Obviously, that didn't sit well with Drake. In less than 24 hours, he came back with his own diss track titled "Duppy Freestyle" in which he references working with Pusha T's producer, Kanye West. Drake raps:
So if you rebuke me for workin' with someone else on a couple of verses / what do you really think of the [man] that's makin' your beats? / I've done things for him I thought that he never would need / Father had to stretch his hands out and get it from me / I pop style for 30 hours, then let him repeat / Now, you poppin' up with the jokes, I'm dead, I'm asleep / I just left from over by y'all puttin' pen to the sheets / Tired of sitting quiet, and helping my enemies eat
According to Esquire, Pusha T "invited" Drake to send him an invoice for all the work he claims he did with West's label, which Drake "jokingly" did on Instagram. Drake posted a fake invoice requesting $100,000 from West and Pusha T's label, G.O.O.D. Music/Def Jam.
Pusha T did not think it was funny. In fact, it basically sent him into overdrive. In response, Pusha T released a song called "The Story Of Adidon" in which he suggests Drake is "hiding a baby" with adult actress Sophie Brussaux. Elite Daily reached out to Drake's lawyers and Pusha T's team regarding this claim but did not hear back by the time of publication.
**Pause. Take a pee break, and come back when you're ready.**
OK.
Yes, reports that started back in May 2017 allege Drake might have had a child with Brussaux, which Pusha T wasted no time capitalizing on. In "The Story of Adidon," Pusha T raps:
Sophie knows better, ask your baby mother. / Cleaned her up for IG, but the stench is on her. / A baby's involved, it's deeper than rap. / We talkin' character, let me keep with the facts. / You are hiding a child, let that boy come home / Deadbeat motherf**cker playin' border patrol, ooh / Adinon is your son / And he deserves more than an Adidas press run, that's real / Love that baby, respect that girl / Forget she's a porn star, let her be your world
Obviously, this sort of accusation is no small thing and involves individuals not included in the inner rap circle (like Brussaux and potentially a child).
It's worth noting Drake's team does not believe Drake is the father of Brussaux's baby. In May 2017, Brussaux told TMZ she allegedly had text messages that claimed to show Drake asking her to get an abortion. Drake's team told TMZ the following:
This woman has a very questionable background. She has admitted to having multiple relationships. We understand she may have problems getting into the United States. She's one of many women claiming he got them pregnant ... If it is in fact Drake's child, which he does not believe, he would do the right thing by the child.
EXHAUSTING, RIGHT?
Now, it's today. I'm pounding my second iced coffee and sweating just thinking about all of this. If you're planning on becoming a rapper one day soon, read this again and take 10 deep breaths before making your decision.
Godspeed.