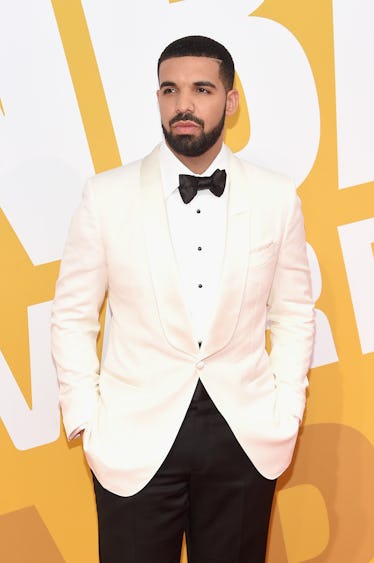 Here's What We Know About The Woman Who May Be The Mother Of Drake's Baby
Jamie McCarthy/Getty Images Entertainment/Getty Images
There are some explosive things going on in the rap world today, fam. There are layers to this story that's about to unfold, but just stick with me and I'll try to sort out all of the details for ya, OK? OK. In case you weren't aware, rappers Drake and Pusha-T have had a pretty long history of feuding, each being known to throw shade at each other in their songs. And on May 29, Pusha-T released a new track called "The Story of Adidon," which calls out Drake and bluntly states that he is hiding a child. If you've been following Drake news, you'll know that in May 2017 there were reports that the rapper had a child that he's kept hidden from the public with a woman named Sophie Brussaux. Elite Daily reached out to Drake's lawyers for comment on this report but did not hear back by the time of publication.
Pusha-T's lyrics also point a finger towards Sophie Brussaux again in his new track. Elite Daily reached out to both Drake and Pusha-T's teams for comment on Pusha-T's diss track and the claims made about Brussaux, but did not hear back by the time of publication. So, who is Sophie Brussaux? Lucky for you, I'm a master at social media sleuthing, so I'll tell you what I know.
Who is Sophie Brussaux?
The woman rumored to be the reported mother of Drake's baby apparently goes by Sophie B, but previously worked as an adult actress who went by the name Rosee Divine. Though she no longer works in the adult entertainment industry, Pusha-T referenced her previous career in his diss track. Part of the lyrics go:
Sophie knows better, ask your baby mother. Cleaned her up for IG, but the stench is on her. A baby's involved, it's deeper than rap. We talkin' character, let me keep with the facts. You are hiding a child, let that boy come home. Deadbeat mothaf*cka, playin' border patrol, ooh. Adonis is your son, and he deserves more than an Adidas press run, that's real. Love that baby, respect that girl. Forget she's a porn star, let her be your world.
I know. It's a lot to take in.
It seems that Brussaux has switched career paths and is now a painter, and, according to The Mirror, "has exhibited in cities including New York, Milan, and London." Her work "is a mix of surrealism and symbolism with influences of pop art."
How did Drake and Sophie Brussaux meet?
While it's unclear as to how they met exactly, the two were spotted at a restaurant together in Amsterdam back in January 2017. Then, in May 2017, Brussaux claimed that she had text messages between her and Drake where he reportedly asked her to have an abortion after telling him that she was pregnant with his child, according to TMZ. The publication also said that they reached out to Drake's team, who said, "This woman has a very questionable background. She has admitted to having multiple relationships. We understand she may have problems getting into the United States. She's one of many women claiming he got them pregnant. If it is in fact Drake's child, which he does not believe, he would do the right thing by the child."
How do we know if Drake is the father of Sophie Brussaux's child?
In short, we don't. According to Vulture, Brussaux reportedly gave birth to a son in October 2017 (which is conveniently approximately nine months after the pair was spotted at the restaurant in Amsterdam), whose name is reportedly Adonis.
So, where does all of this information leave us? None the wiser, apparently, since we have no real confirmation that Drake is the father of Sophie Brussaux's child, despite Pusha-T's lyrics claiming that fact.
It looks like we're just going to have to wait this one out and see if any new details arise with this drama-filled situation.