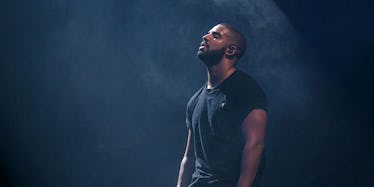 Drake Was Accused Of Allegedly Getting A Woman Pregnant And The Story Is Intense
Getty Images
Oh boy, Drake...
Boy-oh-boy-oh-boy, Drake...
Drake, did you get a woman pregnant, Drake?
Former porn star Sophie Brussaux has come forward claiming she's currently pregnant with Champagne Papi's child, and not just that. Additionally, Brussaux allegedly has a text message exchange with the "Hotline Bling" rapper to prove it.
According to TMZ, Brussaux has since contacted two NYC lawyers for a paternity suit. Elite Daily reached out with a request for comment to Brussaux's lawyer Raoul Felder on the news, but did not hear back at the time of publication.
According to TMZ, Drake allegedly asked Brussaux to get an abortion in a text message exchange.
Brussaux claims the messages between her and the rapper were:
Drake: I want you to have an abortion. Brussaux: I can't kill my baby simply to indulge you sorry. D: Indulge me? F*** you. B: What? D: You do know what you're doing you think you're going to get money.
Elite Daily reached out to a lawyer for the rapper with a request for comment on the alleged text message exchange as well as news of her pregnancy, but has not yet heard back.
However, a representative for the rapper spoke with E! Online and said he thinks it is "very unlikely" the story is true, adding, "If it is Drake's child, which he doesn't believe it is, then he would do the right thing by the child."
To make a muddy situation even muddier, Drake's team alleges Brussaux slept with another famous rapper, who "all but acknowledged it's his kid," E! reports. Elite Daily reached out to Brussaux's legal team with a request for comment on the allegation made by the rapper, but had not yet heard back.
Additionally, Drake's team told E!,
This woman has a very questionable background. She has admitted to having multiple relationships... We understand she may have problems getting into the United States. She's one of many women claiming he got them pregnant.
Those are some pretty big claims.
However, the duo was photographed together at the end of January 2017 at a Japanese restaurant in Amsterdam after Drake's split with Jennifer Lopez.
Brussaux is claiming she is already 3 and a half months pregnant and the baby is a girl.
Her attorneys have declined to publicly comment so far.
Citations: Former Porn Star Claims Drake Got Her Pregnant: Here's His Surprising Response (E! News), DRAKE GETS FORMER PORN STAR PREGNANT She Claims, But He Calls BS (TMZ)