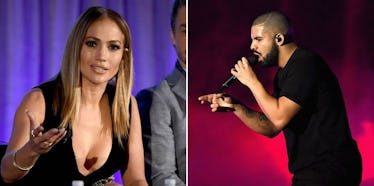 Drake Staying At The Same Hotel As JLo Is All Of Us Trying To Stalk Our Ex
Getty Images
Drake. You poor, rich, bleeding heart.
We know from past breakups of Drake's (cough, Rihanna, cough) that he is the kind of guy to wear his emotions on his sleeve, and if that means stalking his ex Jennifer Lopez at her hotel resort in Puerto Rico, so be it.
Sure we can't confirm the "Hotline Bling" star was there for this reason and this reason only, but we are the internet after all, so might as well put two and two together.
E! News reports that over a week ago, Jennifer Lopez traveled with new boo-bear Alex Rodriguez (I know, I know) for a cool, little romantic getaway to the tune of 100k at the Casa de Campo resort.
Suspiciously, Drake posted an Instagram photo this morning at the same resort where JLo was sipping vodka tonics in (probably) mere days ago.
Drake, y u standin' in thos bushez n' not in the pool, man?
He also captioned the photo, "Peace seeking," which -- little tip from me to you, Champagne Papi -- I've never found peace in all the places my ex hangs out in. BUT YOU DO YOU.
He followed up his mystery bushes photo with this image of friend Draymond Green of the Golden State Warriors, captioning this photo, "When she asks how much fun you're having without her..."
I mean... I don't know how much shade he's really throwing here. It kind of looks like two bros just have a brotastic slumber party giggling in their bro bed. But who am I? Not a bro, that's for sure.
Drake, look: The love of your life is out there, somewhere.
And sure, there's no rule that mega-celeb musicians shouldn't date other mega-celeb musicians, but it's always worth a shot! You know, minus that whole Serena Williams thing.
Citations: Drake Stays at the Same Resort as Jennifer Lopez Just Days After Her Visit (and Appears to Throw a Little Bit of Shade Her Way) (E! News)