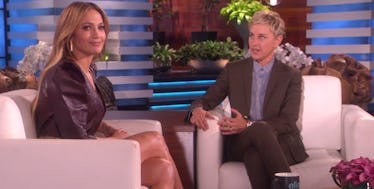 JLo Finally Opens Up About Dating A-Rod In Cringeworthy Interview With Ellen
The Ellen DeGeneres Show
Jennifer Lopez and Alex Rodriguez started dating several months ago, and of course, as soon as photos surfaced the entire internet freaked out.
I mean, we have questions. First, why A-Rod? Second, what about Drake? Third, did you really already introduce him to your mom and your children?!
Lucky for us, Ellen DeGeneres invited the 47-year-old onto her show on Monday and at least got to the bottom of how this whole relationship started.
JLo got seriously awkward and high-pitched throughout the segment, asking the audience multiple times, "You really want to hear this?"
Yes, we do. We want to hear every. little. detail. Ellen went ahead and answered for us all, saying, "It's really important for us to know."
The host started the uncomfortable interrogation by flashing up a photo of the two in which Alex is holding an umbrella and it looks as though he's about to poke Jennifer in the eye with it while he only shields himself from the rain.
Ellen joked, "What a gentleman."
Getting just a little bit defensive, JLo reassured Ellen, "He's a great guy."
OK, sure, Jenny, whatever you say.
So then they got down to the details of how the two met, which is honestly one of the most boring stories I've ever heard and I really suggest they spice it up and exaggerate on some details before they tell it at their wedding.
The "Shades of Blue" star revealed,
It's very simple... I was having lunch somewhere and I saw him and he passed by... and then afterwards I went outside but for some reason I just felt like tapping him on the shoulder... and I said, 'Hi Alex,' and he's like, 'Hi! Jennifer!' and I was like, 'Yeah,' and then that was it.
Apparently they chatted about living in LA (thrilling!) and he eventually texted her asking if she wanted to grab dinner (riveting!).
There was also an uncomfortable moment where JLo tried to explain to Ellen why he already had her number from years ago but it sounds like it was for a reason just as boring as the story of what she was eating when she first saw him pass by in the restaurant.
A few times throughout the interview, Jennifer leaned over to tell Ellen she was going to "kill [her]" and she also dropped quite a few curse words.
Lopez said they shared "a nice dinner" for their first date, but Ellen, always asking what the people want to know, prompted, "And then a sleepover?"
To which Lopez adamantly replied, "No. Mama don't sleep over on the first date."
Despite not sleeping over on the first date, the famous singer and retired baseball player are clearly crazy about each other. Last month, A-Rod gushed about the new woman in his life, saying,
It's obvious. We've been having a great time… We're having a great time. She's an amazing, amazing girl. One of the smartest human beings I've ever met and also an incredible mother… She was a track star in high school and junior high. She's an awesome, awesome athlete.
Now that they've both opened up about each other, it seems super real. They really just need an official couple nickname... and then they can get married.
Citations: Jennifer Lopez's Twins Steal the Show on 'Ellen' as She Opens Up About Meeting Boyfriend Alex Rodriguez (ET)