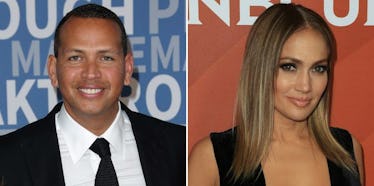 A-Rod Gushes Over Relationship With JLo For First Time: 'She's An Amazing Girl'
REX/Shutterstock
If you're the kind of person who likes to keep the details of a new relationship private, don't date A-Rod.
In fact, don't date A-Rod under any circumstances. That feels like the best piece of advice I've ever given, if not one of the more obvious nuggets.
During an appearance on "The View" Friday, Alex "A-Rod" Rodriguez gushed about new out-of-his-league girlfriend, Jennifer Lopez.
He told viewers,
It's obvious. We've been having a great time… We're having a great time. She's an amazing, amazing girl. One of the smartest human beings I've ever met and also an incredible mother… She was a track star in high school and junior high. She's an awesome, awesome athlete.
Duh, Alex. She's amazing. We all knew that already.
Jenny from the block (the block is the Bronx, doy) is obvi a "big Yankee fan," but her other interests are pretty standard for someone so impossibly beautiful and glamorous.
Alex added,
She just likes simple things. I mean, she's a very, very simple person… Loves family. Is a great sister. Is a great daughter.
JLo has two children, 9-year-old twins Max and Emme, with ex Marc Anthony, and A-Rod shares daughters Natasha, 12, and Ella, 8, with ex Cynthia Scurtis.
These two are like the New York version of the Brady Bunch, except with a criminal deficit of Anne B. Davis appearances.
Though most of us were more invested in the JLo/Drake romance, the Toronto rapper's loss was A-Rod's gain.
A source told Us Weekly,
Alex swooped right in there. It was perfect timing. He swept her off her feet.
Swept. Her. Off. Her. Feet.
Wow! Who knew A-Rod had so much in common with birds of prey?
This relationship is happening, so do like the ladies of "The View" and slap a smile on that face while you count the minutes until you can go back to sleep, dreaming of the days before A-Rod did any swooping whatsoever.
Citations: Alex 'A-Rod' Rodriguez Breaks His Silence on Jennifer Lopez Romance: 'She's an Amazing Girl' (Us)