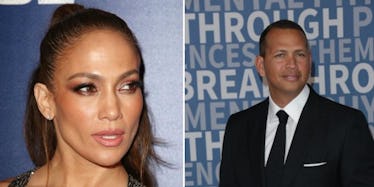 New Pics Show JLo And A-Rod Going Home Together After Romantic Dinner Date
REX/Shutterstock
The romance between the two biggest abbreviated names in the entertainment industry continues.
Jennifer Lopez and Alex Rodriguez were spotted together again, this time on their way home after enjoying a romantic dinner date in Beverly Hills.
The two were seen in a black and silver Rolls-Royce being driven by a bodyguard as they left the Hotel Bel-Air.
JLo rocked a pair of her signature gold hoop earrings, which sparkled beneath her silky blonde waves.
The former "American Idol" judge's look was low-key overall, with a nude lip, rosy blush and some copper eyeshadow.
The 41-year-old retired New York Yankees baseball player was equally low-profile, wearing a black wool coat over a matching shirt.
Even though the superstars have only been dating for about two months now, it seems as if they've been spending quite a lot of time together.
They were recently spotted working out together, and JLo even posted a steamy Instagram selfie of them cuddling in bed... although she later deleted the photo.
According to Us Weekly, the multi-talented "Shade of Blue" actress has already deemed A-Rod a better SO for her than Drake.
Yikes: Sorry, bro.
After the fling between Drake and JLo fizzled out, an inside source said A-Rod quickly seized his window of opportunity to be with the legendary pop star.
The insider said,
Alex swooped right in there. It was perfect timing. He swept her off her feet.
Believe me, I totally see why people are not at all into this J-Lo-Rod  – seriously, what the hell do we call this couple? – thing, but it cannot be denied the two have a lot in common.
They come from very similar childhood homes. They both grew up to be Latino superstars thrust into the limelight, and even their children are similar in age.
Although many people will likely continue to have their doubts about this blossoming relationship, JLo has reportedly been quoted as saying she "definitely sees a future together."
So all you haters (even you, Drake) better suck it up because it looks like this duo is here to stay.
Citations: JLo and A-Rod Hit Bel Air for Low-key Dinner Date (People), Jennifer Lopez and Alex Rodriguez 'Definitely See a Future Together' (Us Weekly)