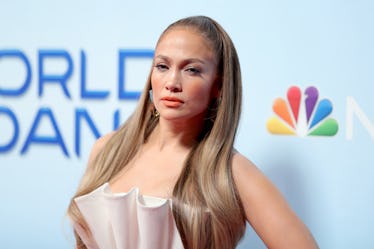 Jennifer Lopez Is Dropping Her Own Bronzer & It Better Be Called J.Glo
Neilson Barnard/Getty Images Entertainment/Getty Images
Jennifer Lynn Lopez does it all, from singing to acting to breaking it down like no other. And now, the queen of multitasking is about to add one more skill to her repertoire: beauty mogul. A Jennifer Lopez bronzer is reportedly in the works, according to the Puerto Rican beauty's makeup artist, Scott Barnes, and I'm not worthy.
"Love Don't Cost A Thing" is one of my all-time favorite J.Lo songs, Enough is a must-watch girl power movie, and Jenny from the block, as she's known, made big booties cool (sorry, Kim K., it's true). I could write 1,000 words on all of Lopez's accomplishments, but one thing she's low-key known (and loved) for is her always-exquisite bronzed skin. Lopez's glowing, dewy complexion will go down in history as one of the most coveted celebrity beauty looks and now her fans can finally achieve it.
Celebrity makeup artists have dished on what products they use on Lopez, including an uber-luxe Serge Lutens bronzer ($170; barneys.com) to which I say, no, just no. Lopez has maintained that she's still Jenny from the block, no matter how many rocks she's got, so I'm confident in my speculation that her forthcoming bronzer will be reasonably priced. Before any official announcements have been made, take a look at how the news got out.
Scott Barnes is Lopez's long-time makeup artist and basically the bronzer king of world, as evidenced by the above photo.
Look. At. That. Glow.
Barnes posted a snap of J.Lo drinking what I hope is tea (because that would be amazingly ironic) and looking bronzed as ever. The blend of her glow into her hairline is remarkable — avoiding the "I'm wearing a mask" look is always key. One Instagram user (and fellow makeup artist) was so taken with J.Lo's look that she asked Barnes what bronzer he used.
"What bronzer do you use on her? Amazing!!!" asked Ivan Vargas. Probably to everyone's surprise, Barnes' answered with, "I'm using a bronzer that @jlo is making it's pretty amazing!! Shhh."
I'm dead, and as it turns out, so is Vargas.
"@scottbarnes68 ok responds should come with a caution. I just had to pull over cause of excitement! A. love your work B. You can't tease and not give more details..." Vargas' response was all of us. Barnes didn't give much info but he seems like a trustworthy source for this information, so it's time to rejoice because J.LO IS MAKING A BRONZER!
Me right now:
Me once the bronzer comes out:
Needless to say, I'm excited, and so is the rest of the beauty world.
The comments on Barnes' post were next level. "OMG read Scott's comment I think jlo is going to start a makeup line!!!!! OMG I'm gonna be bankrupt," commented one particularly excited fan.
You can go ahead and take my money as well, J.Lo.
"I've been saying for years that @jlo should come out with a makeup line... I hope this might be true one day soon 🤞@jlo I know you are super busy and have your plate full with all your business dealings and projects, but the makeup line would be EPIC!! Just sayin' 😉," wrote another commenter.
"Y to tha E-S! Make up artist, Scott Barnes, reveals Jennifer Lopez is working on a bronzer makeup line," one fan tweeted, along with an over-the-top bronzed J.Lo gif. V appropriate.
"Jennifer Lopez is launching her own bronzer, so now we can ALL get the J.LO glow," the J.Lo glow can't come soon enough.
If you're concerned that this is all speculation, don't be. Reliable beauty news source TrendMood also tweeted about Barnes' revelation so it's too late to go back on it now, J.Lo!
Jenny, girl, all I ask is that you release it soon so I can be a bronzed goddess come summer.