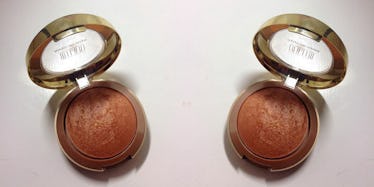 The Bronzer Mistakes You've Been Making According To The Makeup Experts
If the only sun you're getting this summer is coming from your office window, you're in desperate need of a bit of a glow. Not that being pale is a bad thing, but let's face it: A little bit of bronze does wonders on just about any complexion.
Already faking your bake? Great. When done well, a small amount of fake tan on your skin gives you that summertime oomph you need.
Unfortunately for us, bronzer is just about the least user-friendly tool in your entire makeup bag. It's like that finicky, high-maintenance friend you avoid hanging out with because you know she'll nitpick your every flaw, but you still chill with her because she's fun to party with.
We dissected every possible bronzer flaw you can make and checked in with pros on how to look straight out of a Victoria's Secret photoshoot (or a Kim Kardashian one — whichever you prefer.)
Mistake: You only apply bronzer to your face, because that's all that matters — right?
The fix: Get it together, lady. Not only does it look unnatural, it just looks lazy.
"Make sure to blend your bronzer down onto your neck so that it matches your face," Carol Shaw, founder of LORAC Cosmetics explained.
No tell-tale bronzer lines for you, sweet thing.
Mistake: You apply bronzer all over because more is more.
The fix: Bronzer isn't sex — having more isn't necessarily better.
Shaw recommends to start lightly and build up the color. This is easier to do than applying too much and needing to remove excess color.
Jessica Scantlin, the Director of Artistry for Blushington, agreed, "The biggest mistake women make is putting bronzer all over their face. You should add bronzer where sun naturally hits your face; forehead, cheeks and around the nose."
Mistake: You want to channel your inner Snooki, so you lean toward orange shades.
The fix: Unless you're an Oompa Loompa, orange has no place in your bronzer.
Scantlin explained,
Women always tend to go more orange, but making sure your bronzer is actually more on the brown side, as opposed to orange or red, will make a world of a difference. A brown base will give the 'fresh off the beach' glow.
Shaw recommends finding a bronzer shade that matches what your skin looks like when naturally tanned.
Mistake: Your #beautygoals resemble a disco ball.
The fix: The only glitter you should have on your face should be part of your eye look, not your bronzer.
Scantlin warned,
Avoid glitter! A lot of women end up looking like an orange disco ball do to the overload of glitter in their bronzer. Women can have a shimmer bronzer, but make it subtle.
The trick? Use a bronzer with a more natural finish.
Celebrity makeup artist and founder of Mally Beauty, Mally Roncal, recommends using a matte bronzer that is just 1-2 shades dark than your natural skin tone.
Mistake: Your idea of blending involves a Vitamix.
The fix: Orange stripes only look good on tigers. Blend, blend, blend -- and then blend some more.
While this step is important, make sure you don't overdo it. Scantlin explained,
The biggest mistake takes place when someone is blending too harsh. Women will press the brush so hard into their skin, thinking it will grab the product more and going to buff it out, but this is the opposite. You need to have a light hold on your brush and gentle do small circles to blend. Your touch on your skin should be very light so that the product will blend out more evenly.
Moral of the story: natural is always better.