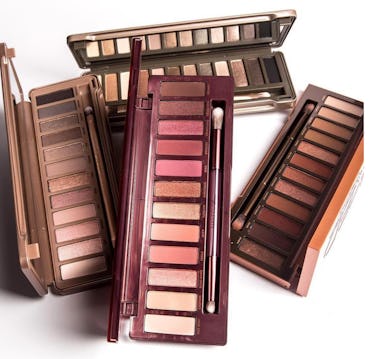 Urban Decay's Black Friday Sale Is Actually 10 Whole Days Of Incredible Discounts
You've likely — no, definitely — been getting a barrage of emails over the past few weeks outlining what sorts of deals each retailer is going to be offering on the day after Thanksgiving, AKA the biggest shopping day of the year: Black Friday. Unlike some, Urban Decay's Black Friday and Cyber Monday 2018 sales are some you should actually pay attention to, not only because the brand is one of the most well-loved around but also because their Black Friday sale is more like a 10-day savings extravaganza. Between Nov. 22 and Dec. 1, they'll be offering an array of deals that you won't want to miss out on so get ready to focus because there's a lot of important information coming your way.
For the main event, Black Friday, Urban Decay will be offering 20 percent off on your entire purchase and free ground shipping. If you're an Urban Decay Beauty Junkie, you'll be able to score 25 percent off your entire purchase, although restrictions will apply. This deal will last between Thursday, Nov. 22 and Saturday, Nov. 24, so you'll have plenty of time to add items into your cart or go back for a second round of shopping if you forget something the first time around.
From there, the sweet seasonal deals continue.
On Sunday, Nov. 25, you'll be able to score a whopping 50 percent off NAKED Skin and All Nighter Concealers as well as UD PRO Makeup Brushes. The Naked Skin Concealers, which promise buildable, even coverage with a luminous, demi-matte finish, typically retail for $29, while a single UD Pro brush will cost you as much as $59. (That's for their Large Tapered Foundation Brush.) In other words, 50 percent off is a big deal.
And the discounts will keep coming.
On Cyber Monday, Nov. 26, you'll be able to score 50 percent off their NAKED Heat 12-shade eyeshadow palette. It's got glittery and matte hues alike, all of which run in the warm color family.
On Tuesday, Nov. 27, select Vice Lipsticks will also be 50 percent off and of Wednesday, Nov. 28, NAKED Petite Heat palettes will be 50 percent. If you couldn't commit to the big palette, here's your chance to grab it in mini, 6-shade form.
On Thursday, Nov. 29, Urban Decay's Lightbeam, Moondust, and NAKED Skin Shapeshifter palettes will all be 50 percent off, and on Friday, Nov. 30, you'll be able to dive in to your holiday shopping with $10 stocking stuffers — exact details are still TBD.
And finally, to round out the mega event, December will be rung in with a deal of 50 percent off Urban Decay's NAKED Smoky palette, which is the inverse of the Heat palette. It features an array of darker and more sultry tones, also in metallic and matte finishes, and is the only tool you'll need to perfect your perfect New Year's Eve beauty look.
So, did you get all of that? It's a lot to take in but once you do, it'll be totally worth it. Happy shopping!