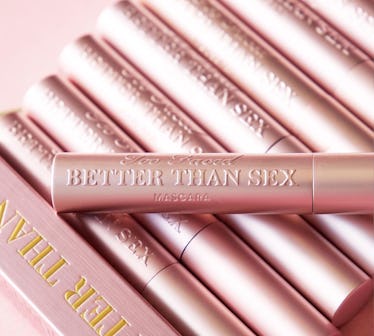 Too Faced Is Giving You 30 Percent Off For Black Friday & A ~Mystery Bag~ For Cyber Monday
Go ahead and use up all that mascara that's left in your tube. Seriously, just go full on falsies with it and keep globbing it on. Too Faced's Black Friday 2018 sale is here to make you cry happy tears and you know that in includes offers on some of the brand's cult-favorite Better Than Sex Mascara, which means you need to make space in your beauty cabinet stat. I promise that whatever mascara you're using now pales in comparison's to Too Faced's, which I can personally attest lives up to its name thanks to its volumizing and curling capabilities. (Maybe that speaks more to the men I've gone out with than to the product itself, but hey.) Now that you're updated on my personal life, let's get down to the sale.
Between Wednesday, November 21 and Friday, November 23, Too Faced is offering 30 percent off items site-wide excluding products within the Clover collection or those that are new or on sale. Told you it was good! On Thanksgiving day the brand will also be launching an all-new Life's a Peach Kit for $49. Seeing as the details of what exactly the kit includes have yet to be released, I suggest you check back on their site regularly.
For Cyber Monday, you'll be able to snag a Mystery Bag filled with $123 worth of product for a mere $42 if you head to toofaced.com on Sunday, November 25 or Monday, the 26. You'll also be able to shop sale items at an additional 30 percent off, meaning you could score some amazing offerings for mere pennies!
And on Tuesday, November 27, which Too Faced has dubbed Giving Tuesday, if you buy either Clover Palette (one is the Pretty Puppy Eye Shadow Palette, which retails for $28, the other is the Clover Eye Shadow Palette, which retails for $49), you'll get a Clover Plush stuffed animal for $10 (normally $24).
Oh, you thought that was all?
As is standard for Too Faced, the brand is releasing two new exciting sets just in time for the holidays. They're super simple pairings and ideal to keep in your purse at all times in case you need to do a quick 30-second makeup application and they make for excellent stocking stuffers.
First up, there's the Mascara & Primer Essential Set, which will be offered at a staggeringly low $14 and includes a tube of Better Than Sex Mascara (normally $24) as well as a tube of the brand's Deluxe Hangover Replenishing Face Primer (normally $34). We've all had those rougher-than-not mornings when our skin feels more like an arid desert than a dewy pillow, and they primer promises to hydrate, smooth, and bright skin back to its dewy and healthy self.
The next ace duo includes another tube of Better Than Sex as well as a tube of Deluxe Primed & Peachy Face Primer (normally $34). This primer blurs and smooths your skin with the help of a brightening peach tint, which works on any skin tone. You can even wear it under your foundation if you're going for a mattified and soft finish.
So, did you get all of that? It's a lot to remember but the bottom line is that good deals are coming your way.