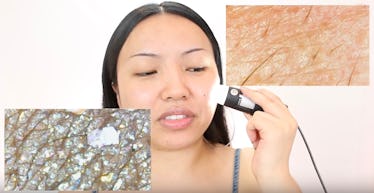 This Video Showing Makeup & Skin Under A Microscope Is So Strangely Fascinating
Just when I thought I'd seen it all and there was nothing the beauty world could throw my way that I couldn't handle, one of my favorite YouTubers just had to post a video showing makeup under a microscope. If the concept sounds equally as intriguing as it does low-key terrifying, then we have something in common. If you were too grossed out to watch, then we have nothing in common, because I clicked that video faster than I've ever clicked before.
If you're not familiar with Promise Tamang and her popular YouTube channel dope2111, which has over 5.2 million subscribers, prepare to be obsessed. She refers to herself as both the "human chameleon" and a "makeup magician" on Instagram, and yes, those are bold claims, but her work justifies them. Her channel features all kinds of beauty and transformation videos, from video game cosplays to special effects illusions and more. She even did a Meghan Markle wedding day makeup-inspired transformation that I have been low-key trying to recreate ever since.
For reference, this is Tamang on a normal day:
From her YouTube to her Instagram, she is always posting impressive makeup transformations that require a double take:
Seriously, TELL ME THIS ISN'T MARIAH CAREY:
Anyway, I digress. While the wow-factor in Tamang's videos is usually a transformation, in a new video she utilizes a totally new lens through which we can look at makeup... as in, an actual microscope lens. Her video "MAKEUP VS NO MAKEUP Under a Microscope !!!" has already surpassed three million views, and when you see how real it gets, you'll understand why.
In the video, Tamang shows off her new purchase, a Jiusion Digital Microscope ($20, amazon.com), and says that after watching others in the community, like makeup artist Tina Young and YouTuber Fei Yang, post microscopic skincare videos, she decided to try one for herself. Tamang decided to take it one step further by not just showing us what her bare skin looks like under the lens, but also comparing it to what a full face of makeup looks like as well.
Bracing myself for the worst, but also oddly excited — is this how people feel when they watch Dr. Pimple Popper? — I was totally glued to my screen as I watched Tamang navigate the microscope's lens across her face. While her bare skin was interesting, the best part was undoubtedly comparing it to the makeup-coated version.
Here is Tamang's makeup-free cheek, the sight of which actually prompted her to consider dermaplaning. You rock those microscopic hairs, girl:
In comparison, this is her highlighted cheekbone:
Tamang describes the up-close highlight as "mermaid scale"-esque, and the glittery texture is definitely visible under the lens. She even jokes that, minus the hair, the shot would make a great wallpaper for a phone background.
Along with the cheek before-and-after, Tamang also shows her natural lashes versus how they look with falsies applied.
Something about this close-up shot of eyelash roots really freaks me out, TBH...
...but not nearly as much as the sight of the foamy gray lash glue and falsies stacked on top:
Do you see what I mean when I say stuff this is as strange as it is addicting? Arguably the most "graphic" of all the up-close shots occurs when Tamang locates one of her moles. As someone with a multitude of moles (moletitude?), this one had me particularly squirmy:
Some other notable images you strangely won't be able to look away from featured product-coated brows, bare lips, and Tamang's scalp. You've been warned!
In addition to her own face, Tamang turned the microscope on some beauty tools as well, showing what a beauty sponge and brush both look like up close and personal.
The beauty sponge looks a lot like SpongeBob when he's in need of water, don't you think?
All in all, while this video kind of scarred me for life, it was simultaneously one of the coolest I've ever watched. Tamang definitely upped the ante on microscope videos by showing us the fresh-faced vs. full glam comparisons, to the point where I'm feeling inspired to go au naturel and let my skin breathe for a little, since it's clearly got a lot going on.
You can watch the video below and see if you feel the same — or just challenge yourself to make it all the way through without wincing. Godspeed!