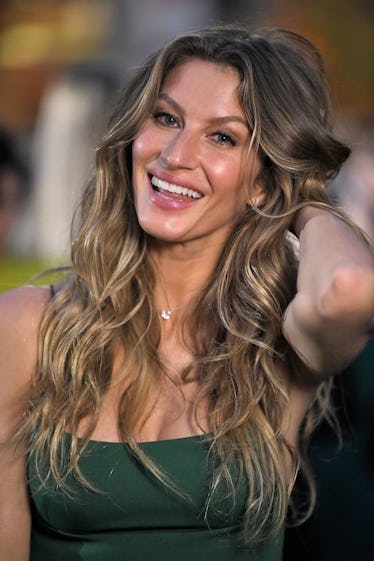 Gisele Bundchen Just Posed On The Cover Of 'Vogue' Without Makeup & It's So Refreshing
James Gourley/REX/Shutterstock
Makeup-free photos are no longer anomalies. Celebrities regularly post I-just-woke-up selfies and countless magazines regularly feature bare-faced women within their pages. But Gisele Bündchen's no-makeupVogue cover is still definitely worthy of a shout out for a few reasons other than its sheer photographic beauty.
Thanks to the upcoming Superbowl this weekend, Bündchen and her husband, Patriots quarterback Tom Brady, are at the forefront of many people's minds. It makes sense, then, that they'd appear together in a well-timed editorial (Brady makes a cameo or two within the shoot), even if for Vogue Italia, a foreign publication. While the Patriots are certainly one of the most known teams in the NFL (for both good reasons and bad), Bündchen and Brady are two of the most known individuals within their respective fields. The term power couple would be an understatement.
At this point, we've all seen countless photos of Bündchen dressed up in the most lavish of fashions, painted with the most artistic makeup, and posing in the most outrageous settings in magazines and ad campaigns, alike. And we've certainly seen Brady make play after incredible play on television and lend his smile to brands like Under Armour and Aston Martin. But rarely do we see the couple together having a normal —or their definition of normal — day spent chilling at home with their kids. Which is exactly what the new Vogue Italia feature captures.
Shot by British photographer Jamie Hawkesworth (one of my favorites!), the shoot, which took place at the couple's Massachusetts home, includes an image of Bündchen riding a horse with her children on the beach; a shot of her, Brady, and their kids playing together in the grass; and snaps of Bündchen in her pajamas. As WWD reports, no artificial lights were used during the shoot, which was done entirely with a film camera. There was no hair team, no makeup team, and Bündchen styled herself; truly au naturale.
Getting a peep into the life of one of the most influential couples in the world feels like a rare treat. Less special, perhaps, is seeing Bündchen appear without a stitch of makeup throughout the shoot and on the magazine's cover. However, this is the first time that Vogue Italia has featured a model with no makeup who dressed herself on their cover and that in itself makes it so notable.
It's incredible that most of us have become used to seeing women — famous women — without product on their face in the media. That didn't used to be the case (it wasn't when I was a teenager), which signifies we are making strides in terms of embracing and normalizing natural beauty. (If "normalizing natural beauty" sounds backwards it's because it totally is. But it was once the reality!) In order to make sure this progression continues and becomes more widespread, we still need to celebrate and applaud when publications and brands reach no-makeup milestones on their covers, within their pages, and within their campaigns.
Yes, Bündchen has certainly also appeared without makeup plenty. She's arguably one of the most stunning women ever so yeah, it makes sense she'd feel comfortable in her own skin. I mean, she is a model. But I'm hoping that her cover and shoot will prompt other women who aren't models to realize their own natural beauty — the in the beauty in their everyday, whatever that looks like.
All of this aside, it's also just a flat-out gorgeous shoot. The lighting is like permanent golden hour, Bündchen's kids are adorable, and Brady isn't so bad to take a look (or ten) at, either. And honestly, it has me longing for a day spent at home in my pjs not doing much of anything. A good excuse as any to be a bum? I think so.