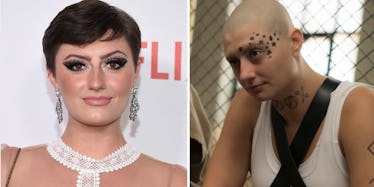 'OITNB' Actress Francesca Curran On Crazy "Skinhead Helen" Transformation -- EXCLUSIVE
Getty, Netflix
Nobody is more shocked at how drastic a transformation Francesca Curran has to undergo to portray "Skinhead Helen" on Orange Is the New Black than the actress herself.
Helen is a burly, tatted-up, bald neo-Nazi, but Curran describes herself as super girly in real life. But to get the part, Curran agreed to totally shave her head.
Elite Daily caught up with Curran, who recalled the shock she experienced when first reading the description of "Skinhead Helen" prior to her OITNB audition:
I read the breakdown I was thinking to myself, 'There's got to be some sort of divine miracle, because even with the most amazing transformation in the world I don't see how I could physically meet the characteristics that they need here.' It said like early 30s, physically intimidating, broad, physically scary, definitely lifts weights. All this stuff, and then shaved head. And I'm looking at this thing and going, 'Wait a minute. First of all I have hair, that's for sure. Second of all, I haven't lifted a weight in my life, and I'm the furthest thing from what I'd think would be physically intimidating.'
Despite being the exact opposite of the character she was being called in to audition for, Curran gathered together a makeshift Helen costume consisting of ripped jeans, her husband's construction boots, and super slicked-back hair.
At the end of her audition, the casting directors asked if she was OK with having her head shaved, and Curran was totally down for it: "I know that hair grows back and this is a once-in-a-lifetime opportunity."
But for such a hugely transformative role, Curran's casting happened in a blink. She got the call to audition for Helen just hours before the audition time, was offered the part two days later, and was called in to get her head shaved and start shooting scenes just a couple days after that!
It was such a whirlwind, like I'm still to this day processing it.
Now that it's been about two years since shaving her head for the role, Curran says she's accustomed to her bald head and loves how quickly she can finish a shower and get ready in the morning without her hair.
But there are still times when she misses her long hair and points out that wearing wigs every day comes with its own set of worries, like that her wig might fly off on a windy day. She also points out what a sensitive situation it's been for her — a self-described girly girl — to lose one of the most visually feminine aspects of her body.
The experience of having your head shaved, especially for women, I feel is so sensitive, since you're being stripped of one of your most feminine characteristics.
One thing Curran does not have to worry about as much as her costars is getting hounded by fans when she's out in public. Even some of the most hardcore fans of the show don't recognize Curran as Helen, although she says she does get the occasional fan coming up to her and nervously asking if she's Helen.
Fans might start recognizing her more in the future, now that Helen has started playing a larger role in the show. It feels like Helen is a character ripe for a juicy backstory, but we still don't know anything about her prior to Litchfield.
Curran, however, has a whole backstory written out for Helen — she began writing it her first day on set and has continued to edit it as she learns more about the character. Now, she says she has a "super interesting story" about Helen's upbringing and how she ended up in prison. Let's hope we can find out what that is in Season 6!