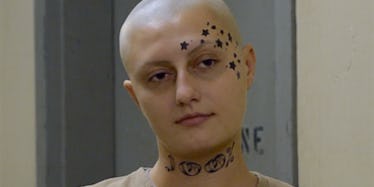 "Skinhead Helen" From 'OITNB' Is Totally Unrecognizable Out Of Costume
Netflix
All of the actresses on Orange Is the New Black have to go through some pretty drastic make-unders to look the part of prison inmates, but nobody's transformation is as radical as Francesca Curran, who plays "Skinhead Helen."
Though she was more of a background character in earlier seasons, Helen rose to become one of the breakouts of the newly released Season 5. She definitely has the most wild look of the OITNB stars, sporting a shaved head and various neck and face tattoos.
But Francesca Curran looks nothing like her character in real life. Just check out the side-by-side she posted of her transformation into Helen below.
Totally unrecognizable, right!? Unsurprisingly, Francesca admitted to Business Insider she's the first person to sit down in hair and makeup in the morning, and the last to leave at night.
And no, those tattoos aren't real, but the shaved head actually is. Francesca gets Helen's various tattoos painted on by the makeup department before shooting and gets her head freshly shaven each day of production.
When off-set, Francesca wears wigs.
The actress also opened up about how strange it was to completely transform herself for this role. She admits she's actually very girly in real life, so it was a huge shock to her when she looked into the mirror the first time as Helen.
In real life, I'm so feminine. I'm so girly. I love my makeup, I love my jewelry and all that; so to really be stripped of all that ... The first time I was like, okay, wow. I found myself in the mirror and was like, this is a striking ... what a difference.
One of the positive things about such a drastic character makeover is that Francesca can still go about her life without being recognized every time she leaves the house.
She says even when she's hanging out with her OITNB castmates, they'll all get recognized but fans will ask who she is, and won't even believe her when she tells them she's Helen.
Hey, maybe Helen can start growing our some hair next season? I'm sure Francesca would appreciate that.