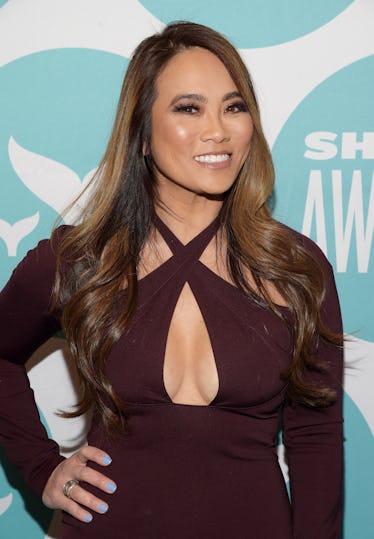 Dr. Pimple Popper's Show On TLC Just Premiered & It Was As Strangely Satisfying As Ever
Jason Kempin/Getty Images Entertainment/Getty Images
Do you love watching a good blackhead-extracting session? Does a hard-to-pop pimple have you on the edge of your seat? You're not alone — and apparently, you're in luck. Dr. Pimple Popper's new show on TLC premiered on Wednesday, July 11, and yes, viewers were able to experience all the the dermatological magic full-screen, right on their TVs.
If you're unfamiliar with the Dr. Pimple Popper obsession, allow me to provide some backstory. Dr. Sandra Lee, a Southern California-based, board-certified dermatologist, has a knack for extractions, and she's created a worldwide audience of "popaholics" who love to watch her work. She posts videos all across her social platforms, and their popularity rivals that of major celebs like Kim K: I'm talking 2.7 million followers on her Instagram, 400K to 500K views per Snapchat story, and 3.9 million followers on her YouTube channel, where her videos have been viewed over 2.5 billion times. Like I said, you're not alone if you like to watch this stuff. Pimples might just be the next Kardashians, apparently.
If you're not a popaholic, you might be wondering what the appeal of popping a nasty zit could possibly be. Many cite Dr. Lee's videos as super satisfying, while others are simply fascinated that the human body can even produce some of the super-sized blemishes she takes on. Just a scroll through the stills on her Instagram feed left my mouth hanging wide open, surprised at how gruesome some of the conditions truly were.
I won't scar any timid readers by inserting a full-length extraction video here, but if you didn't watch last night and you're curious about exactly what's in store for the rest of the series, the TV show's trailer, recently posted to the Dr. Pimple Popper Instagram, gives you a taste of all the action:
If you missed last night's episode, don't worry. There will be plenty of satisfying pops throughout the series, but that isn't the sole focus of the show. During the show, viewers get to connect with Dr. Pimple Popper and really see her as Dr. Sandra Lee, a completely badass boss lady and accomplished dermatologist with her own skincare line, SLMD Skincare. They'll see exactly what it's like to be a busy (and famous) dermatologist, and above all, see exactly how Dr. Lee's impressive skills help change and improve the lives of her patients.
The series in no way aims to exploit or embarrass patients with particularly extreme skin conditions. Instead, the show aims to highlight how debilitating these issues can become for said patients and provide them with Dr. Lee's talents as a solution to their struggles. It's both educational and touching — the gnarly pops are just the icing on the cake, so to speak.
In addition to pimples, the first six episodes of the series will tackle skin conditions and issues, including tumors, cysts, protruding veins, lumps, and even an elephant-like skin condition that limits one patient's mobility. Dr. Pimple Popper isn't just here to entertain us — she's out here saving lives!
Stunning. Smart. Board-Certified. Dr. Sandra Lee is a total boss. She's also taken to her YouTube channel to vlog a little about filming the TLC series, and she's just as excited as her viewers.
Dr. Lee and the Dr. Pimple Popper series definitely have some haters — fair enough, not everyone wants to see a gruesome extraction — and while they have a right to not tune in, it's certainly unfair to say it's a show all about popping pimples. The series will focus far more on helping patients than purely gag-worthy pops. "You understand how devastating their condition really is, how it affects their everyday life, and how they interact with others and the world," says Dr. Lee in a press release.
She continues, "I evaluate every patient and decide on a treatment course to help their skin conditions - and afterward, we see how we have really transformed their lives!"
If you're eager for a night of gnarly pops and touching moments, be sure to tune in to TLC on Wednesday nights at 10 p.m. ET. If you're feeling hesitant about staying in just to watch pimples be popped, trust me, you won't be the only one.