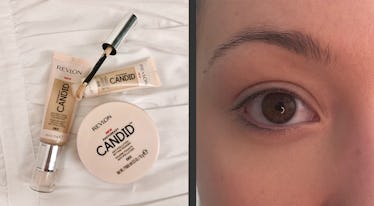 Revlon's New PhotoReady Candid Collection Has The Best Full-Coverage Drugstore Concealer I've Ever Tried
Courtesy of Bella Gerard
I admit that as someone who works in beauty, I occassionally get so swept up in the glitz and glamour of luxury brands, I forget how great a good drugstore buy can be for my makeup routine — not to mention, my wallet. In the end, my top priorities when buying face products are that they look awesome on my skin and protect or provide benefits, so that I don't feel guilty wearing them everyday. This Revlon Candid Antioxidant Concealer review is proof that drugstore products can check off all the boxes, as I tried out the brand's entire new PhotoReady Candid Collection, and I'm quite pleased with the results.
If Fenty and KKW Beauty are any indication, products with millennial pink packaging are bound to be a hit, so when I saw Revlon's new launch, the PhotoReady Candid Collection, came in cute pink tubes, I was instantly intrigued:
While it's true, the packaging is cute, Revlon insists it's the formula inside that makes this new line so good, not to mention so good for you. The PhotoReady Candid Antioxidant Concealer ($10 revlon.com), PhotoReady Candid Natural Finish Anti-Pollution Foundation ($11, ulta.com), and PhotoReady Candid Anti-Pollution Setting Powder ($10, ulta.com) are all formulated without oils, parabens, phthalates, synthetic dyes, and fragrances. In place of these, they've jam-packed the products with Vitamin E, an antioxidant that doubles as an anti-pollutant. They've also included pigments and powders that they claim will protect the skin against environmental stressors, as well as prevent blue light from harming your complexion. This collection instantly caught my attention with its perfect combo of cute packaging and healthy skin ingredients, so I decided to take it for a test drive — and ended up discovering my new favorite concealer in the process.
When it came time to choose my products, I was decently impressed with the foundation's shade range. With 31 shades, there were an impressive amount of undertone options included, especially for a drugstore base product, and while there are multiple dark and deep dark shades available, there's always room to expand a shade range on both the dark and light ends of the spectrum. On the other hand, the concealer only comes in 18 shades, including one universal shade, "Banana," to neutralize and brighten. Because I love this formula the most, I hope they expand its range to match all 31 foundation tones, or more. The powder comes in just one universal translucent shade, which has a slightly pinky tint to brighten.
Here's my bare face versus the PhotoReady Candid Natural Finish Anti-Pollution Foundation immediately after application:
While the foundation formula is rather thick, I felt it spread out and applied easily and evenly, and found it dried down rather quickly to a natural, semi-matte finish. I didn't feel the need to set my combination skin, and while up close, the pores around my cheeks were a little more visible than I'd like, I did notice my skin overall appeared to have a slightly blurred effect, which I really liked. I'd definitely press a pore-filling primer into certain areas the next time around, but overall, I really liked the natural finish. The coverage was light, but easily buildable to medium, and I found that layering this foundation didn't cause it to get funky or feel heavy at all. It didn't completely mask my acne scars, but I liked how even and bright my skin looked. So far, so good!
Here's the foundation and concealer immediately after application versus six hours later, complimented by the rest of my makeup routine:
Like I said above, I didn't feel the need to set my face immediately after applying this foundation, but I will say that over time, I realized I likely would have benefitted from setting my T-zone at least. Regardless, I loved how the foundation wore, and the dewier it got, the more I liked the finish. Even as shine started peeking through, the product never broke up or got textured on the skin, and I think I liked the end-of-day look even more than how it immediately applied.
While I did like the foundation, I found that the PhotoReady Candid Antioxidant Concealer was the real winner in the collection. Here's my bare under eye area versus the concealer immediately after application:
Nice, right? This is probably the most coverage I've ever gotten from a drugstore under eye area concealer, and I was really impressed by the super matte finish that still brightened and didn't feel cakey or heavy. I immediately decided to add this to my pile of everyday makeup. It's also worth noting that the tube packaging is deceiving, as this product doesn't dispense via a squirt head, but in fact has a super large doe foot applicator, which is another huge bonus in my book.
I loved this applicator for quickly and evenly dispensing product!
Here's the concealer immediately after application, versus six hours later, complimented by the rest of my makeup routine:
This concealer really wore like a dream. It definitely didn't budge and there was minimal to no creasing other than directly underneath my lower lashes, as you can see, and for me this is a major success. I was worried the matte finish might look heavy or crease dramatically by the end of the day, but I didn't set this product and it looked fabulous all day long. A real winner, and definitely one I'll recommend to friends looking for a drugstore buy that works!
In the name of full disclosure, I tried the PhotoReady Candid Anti-Pollution Setting Powder as well, and wasn't nearly as impressed as I was with the other two products in the collection. While the super-fine powder went on like a dream, the translucent shade looked white even on my fairly pale complexion, and gave off major flashback in photographs. Even so, I'd definitely recommend the other base products in the collection, and I've already recommended the concealer to my friends, since it's definitely the star formula in my eyes. I can honestly say I've never gotten such full, long-lasting coverage from a drugstore concealer, and when you couple that with the healthy ingredients and skin benefits Revlon's packed into the formula, I think it's safe to say the Candid Collection is a keeper.