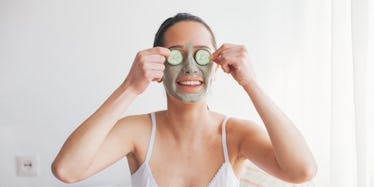 9 Products That Will Minimize Your Dark Circles And Refresh Your Eyes
Millennial women have a lot going on these days, and though lack of sleep is often a given, evidence of a hectic life will almost inevitably shine through the dark circles under your eyes. Between clocking in a minimum of eight hours of work per day, and squeezing in a pre-dinner workout before you catch the latest episode of Game of Thrones, it's no wonder most weeknights are spent playing catch-up rather than actually catching some Zs.
Even though it can sometimes feel like you're the only one with bulging eye circles crowding your lower lids, trust me, you're not.
The trick is to learn how to cover up those bad boys, whether you do so through natural solutions or cosmetic assistance.
Here are nine foolproof ways to keep your eyes looking as fresh as ever, dark circles and all.
1. Cover Up
Tarte Shape Tape Contour Concealer, $25, Tarte Cosmetics
If you don't have time to whip up your own concealing cocktail, makeup is always a solid fallback.
Tarte's Shape Tape Concealer is available in 14 shades and is formulated with shea butter and licorice root extract for added nourishment.
2. Cucumbers
I know laying back on the couch with a pair of cucumbers nestled under your eyelids seems a little silly, but splurging on one or two of these will act as insurance when you're low on time and desperate for a fresh face.
Cucumbers are rich in antioxidants as well as vitamins C and K, all of which work to naturally reduce inflammation.
Also, because their cooling effect reduces swelling and dark circles fast, the colder the cucumber, the better.
3. Eye Masks
TONYMOLY My Little Pet Eye Patch, $4.50, Ulta
Personally, I'd purchase TONYMOLY's eye patches just because the packaging is so damn cute. The product's rave reviews, however, are what should ultimately sell you on this gem.
Each slice is packed with green tea and sunflower seeds to firm the under-eye area and moisturize any dryness.
4. Olive Oil
Who doesn't love a DIY remedy?
You most likely have a bottle of this stuff in your kitchen already, so there's no excuse not to give this anti-inflammatory solution a try.
Simply tap and massage the virgin oil in circular motions around the eye area and let it set overnight. The natural fatty acids from the oil will boost hydration levels and nourish dried-out skin.
5. Apple Cider Vinegar
Bragg Organic Raw Apple Cider Vinegar, $9, Amazon
Apple cider vinegar literally does it all, from dressing salads to brightening up dark under-eye circles.
The recipe for success is simple. All you'll need to do is dip a q-tip or drip a few drops of ACV onto a cotton swab and apply under the eyes first thing in the morning, and right before you go to sleep.
The fruity vinegar contains a slew of minerals, vitamins, and enzymes that will significantly brighten the under-eye area in just a few days' time.
6. Tea Bags
Like ACV, tea bags tend to fix a ton of skin ailments.
Refrigerate used tea bags and apply them under the eye area to reduce dark circles quickly.
Green tea and herbal leaves, like chamomile, work best for this because the caffeine shrinks the visible swelling of blood vessels.
7. Color Corrector
Urban Decay Naked SKin Color Correcting Fluid in Peach, $29, Sephora
Color corrector made its mark on the beauty industry in a big way in recent years, and my favorite line of tinted fluid is definitely the Urban Decay Naked Skin collection.
The peach tone features subtle, pearlescent pigments and antioxidant-rich vitamins C and E. It acts as a liquid neutralizer to mask dark circles flawlessly with or without makeup application.
8. Cream Contour
A Complete Youth Preserve Eye Contour Cream, $46, A Complete
Eye creams are your saving grace when it comes to stubborn dark circles that just refuse to lighten up.
A Complete's balmy contour is paraben-free and loaded with collagen-enhancing ingredients like rosemary leaf and centella asiatica extracts.
9. White Eyeliner
NYX Professional Jumbo Eye Pencil in Milk, $4, Target
Unlike black eyeliner that can make your eyes look smaller, white liner gives irises a subtle pop, so you'll look awake even if you skipped your morning coffee.