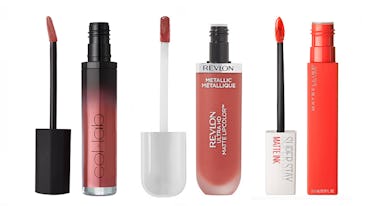 The 6 Best Drugstore Lipsticks Under $10 That Will Keep Your Pout Looking Fierce All Winter Long
Col-Lab; Revlon; Maybelline
Did you know that, on average, lipsticks expire after around two years? Chances are you've been hoarding some winter faves for longer than that, so it's time to give your collection a much-needed refresh. Whether cuffing season has brought you a bae or, like me, you just want some cute lippie options for holiday parties and Snapchat selfies, you'll be delighted to know that I've rounded up the six best drugstore lipsticks under $10, so your lips can look fab all season long.
The colder months always leave me lusting after dark, statement lip shades, and the NYX Soft Matte Lip Cream ($7, nyxcosmetics.com) in shade "Monte Carlo" has been one of my go-to hues for more than four years. The soft matte formula wears exactly as it sounds — it feels pillowy and velvet-like on the lips, but it's still shine-free and long-wearing. Fair warning, it's not totally transfer-proof, but if you're headed out on a day-long excursion or to a full night of holiday parties, this is definitely a formula that's built to last more than a few hours. Oh, did I mention there are 43 shades? Yep, there are 43 shades, and you're bound to like more than a couple.
Maybe you can't relate when it comes to dark lipsticks, and instead you want to stock up on some great nudes? I love a slightly cooler-toned, brown-ish nude for the colder months, and the L'Oréal Infallible Pro Matte Les Chocolats Scented Liquid Lipstick ($10, lorealparisusa.com) hits the nail on the head with shade "Bittersweet." Not only is the color pretty, but the lightweight matte formula smells like chocolate — and I'm talking real-deal cocoa, no funky synthetic smell here. I also love this lipstick's arrow-tipped applicator, which makes super-precise application a dream.
Sorry, sorry, but I'm already back to the dark lips. And after setting your sights on the Covergirl Melting Pout Liquid Lipstick ($5, amazon.com) in "Gel-mate," can you really blame me? A dark purple shade is just so bad*ss, and this super pigmented formula ensures it won't look patchy on the lips. This one is also not 100 percent transfer-proof, as it's more of a gel cream formula than a dry-down matte, so reach for this when you're looking for a little something shiny.
I tend to favor liquid lipsticks and matte formulas in the winter because I want my lip color to look locked-in and fab even when the rest of me is absolutely freezing, but there are some hydrating bullet lipsticks that still make the cut. The Rimmel London Moisture Renew Lipstick ($5, amazon.com) is a great pick, especially in a bold pink shade like "As You Want Victoria." This formula contains vitamins A, C, and E to nourish while you wear, so if you fear chapped, flaky lips, then make this your go-to product.
When you want that perfect, matte pink, though, you've got to reach for the Col-Lab Matte Addiction Liquid Lipcolor ($10, collabmakeup.com) in shade "Non Stop." It's not always easy to find ultra matte formulas that still feel comfortable on the lips, but Col-Lab really nailed it with this one, and the long doe foot applicator makes it easy to swipe on in seconds.
Can you really celebrate the holidays without a classic red lip? I'm unsure, TBH, but I'm personally not going to risk it. This year, I'll be opting for a warm-toned red to contrast cold temps — in particular, I'm really feeling the super velvet-y Maybelline Superstay Matte Ink ($10, maybelline.com) in shade "Heroine."
If you're into red vibes but not one to rock a bold, fire engine-esque shade, I think the Revlon Metallic Matte Finish Ultra HD Matte Lipcolor ($6, target.com) in shade "HD Flare" is so unique. First of all, it's not everyday you throw on a metallic matte shade, so this formula already feels special, but the brick red hue really takes it up a notch. Bonus points are awarded for the mango and vanilla scent, which I occasionally sniff even when I don't need a lip touch-up, because the summer smell makes me forget that it's cold outside.
While these specific shades stuck out to me as particularly winter-worthy, it's the formulas themselves that truly won me over, so feel free to browse and find the colors that suit your seasonal vibes best.