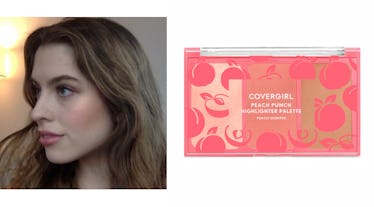 CoverGirl Dropped $10 Peach & Chocolate-Scented Palettes & I'm Literally Drooling
Sophie Wirt
Forget peaches and cream — peaches and *chocolate* are a match made in gourmet heaven. (Okay, so I've never actually eaten that particular combo, but we can all agree that anything dipped is chocolate is delicious.) Plus, CoverGirl just launched a new collection, and this CoverGirl Peach Punch Collection review totally proves my point.
The seven-piece collection features two eyeshadow palettes, one highlighter palette, one contour palette, and three individual blush, bronzer, and highlighter pans. All of the products fall into to an incredibly well-curated color scheme — one that embodies the aforementioned foods, I might add. Think rich cocoa browns, shimmering bronzes, peachy corals, and rose golds. Yummy, right?
But wait — there's more! The lineup goes beyond a hue homage: Every single product smells like the goodies, too(!). Depending on which of the products you whiff, you're in for a hit of either peach or chocolate scented goodness. Honestly, every single product smells so darn delicious, I'm genuinely frustrated that I can't *actually* eat them. (CoverGirl, if you're reading — let's make this happen.)
After I finished sniffing and re-sniffing each product, I went ahead and actually used them on my face. I was, unquestionably, overzealous with my application, piling on as many of the products as I could. Nevertheless, my makeup ended up looking surprisingly intentional — as if I'd selected the most complementary shades from a handful of my favorite palettes and spent time devising a makeup look. In reality, I smeared on every and all shades that looked pretty to me (which is to say, most of them).
Point being, the entire line is extremely complementary, no matter which shades (or how many shades) you pile on, it's virtually impossible to end up with a color catastrophe.
The Peach Punch Eye Shadow Palette contains eight shades, including metallics, shimmers, and matte shadows. Each of the colors is delightfully buttery, and I was pleasantly surprised by how smoothly they glided on.
Similarly, the Chocoholic Eye Shadow Palette also boasts eight shades, which also apply with silky-smooth ease. The chocolate scent on this one is beyond delicious, which made it even more fun to apply. Because this palette includes a range of brown shades, it seems like a good go-to palette for both day and night looks. The matte browns can be blended to highlight the natural contours of the eye, as well as create a daytime smoky look. On the other hand, the sparklier hues are perfect for a night time smokey eye. I'm particularly partial to the furthest shade on the left (below), because it contains flecks of gold glitter that creates a unique shade which almost veers green.
As for cheeks, the collection features two Peach Punch Blushes. Both are super wearable; again, which you prefer depends on the look you're going for. One of the shades is matte and more subdued, whereas the other has a brighter peachy hue and subtle light-reflecting pigments.
The Peach Punch Highlighter Palette isn't like every other highlighting palette on the market. Of course it smells like peaches, but it also exudes an iridescent rose gold glow, which instantly put me in a summery mood. Honestly, I was surprised by how beautifully this stuff blended, too, and I wouldn't be surprised if it became my new highlighter go-to for the season.
CoverGirl isn't the first brand to add fragrance to its color cosmetics, though. Earlier this year, Maybelline launched a Lemonade-scented palette — and who could forget the Too Faced palettes that, arguably, started it all? Here's to hoping more brands hop aboard the scented-makeup trend!
Until then, you can snag the CoverGirl Peach Punch Collection exclusively at Walmart stores and on Walmart.com. Perhaps the best part about the whole thing is that everything is under $10. Now that's peachy keen!