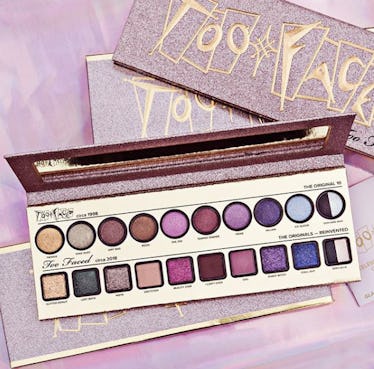 Too Faced Is Dropping A '90s Palette That Smells Like Cake & It's Not Even My Birthday
Too Faced
Being the '90s baby that I am, I love anything that brings back feelings of nostalgia from my teenage years. I live for the moments when designers pay homage to the pop era on their runways or when makeup brands bring back cult-classics that remind me of my middle-school makeup bag (which was usually packed with jelly lip glosses and loose glitter). This Too Faced '90s eyeshadow palette takes me back, but is also packed with colors that can make this almost-30-year-old beauty junkie look like the best version of herself.
Let's take a stroll down memory lane, shall we? In 1998, JanSport backpacks came in every color, the Spice Girls broke up (I'm still crying over it), jelly shoes made feet sweat all around the world, People magazine's Sexiest Man Alive was Harrison Ford, and a new makeup brand called Too Faced made its debut. Though it feels like yesterday, Too Faced is already celebrating their 20th birthday (how old do you feel right now?), and get this, we're the ones receiving a gift. Co-founder and Chief Creative Officer Jerrod Blandino took to his Instagram to share the throwback eyeshadow palette you've been waiting for.
Jerrod posted a photo of retro-looking palette with the caption, "CHEERS TO 20 YEARS 💕🍾 Back in 1998 we launched the ORIGINAL 10 Too Faced eye shadows that brought fun and a whole lotta glamour back into the beauty industry. The Too Faced Then & Now Eye Shadow Palette features those 10 original shades (in a modern formula of course) and 10 COMPLETELY NEW shades that were inspired by the originals. P.S. this smells like a yummy birthday cake 🎂😍 #toofaced20#sneakypeek."
Cleverly named the Too Faced Then & Now Eye Shadow Palette, the collection of pigments is just as sparkly on the inside as it is outside. The shades are split in two — the top row is made up of the original 10 shades (including Zsa Zsa, Dirt Bag, Ice Queen, Trixie, and more) launched in 1998, and even has the original Too Faced logo printed on it. Below those, is 10 more shades (with names like I Can't Even, Gigi, NSFW, Gretchen and Shady Bitch), which are spinoffs of the original, reinvented for the 2018 beauty junkie. Between the two, you'll find the perfect mix of neutrals and sparkly jewel tones. And it smells like birthday cake? I can't think of a better way to celebrate 20 either!
And in case your a selfish makeup hoarder like myself, that's not all Too Faced has coming up. Last month, Jerrod also shared a sneak peek (which, by the way, following him on Instagram is like one big behind-the-scenes look), of a '90s-inspired lipstick.
The caption was vague, so it seemed more of a throwback than an upcoming launch announcement. Jerrod posted a video of a Kira-Kira worthy lipstick in a hot-pink glittery tube with an equally shiny lipstick inside. He posted, "#tfsneakypeek Happy Birthday to you! 💖💋#toofaced#TF20," but today it's clear that video was more than just a blast from the past. Today, he took to his Instagram again to tell his followers, "Happy Birthday to Us! To celebrate our upcoming TF 20 Birthday I reinvented our original 10 lipsticks we launched with back in 1998 with the most rich & creamy glitter formula you've eva seen! I'm so excited I had to give you a lil #tfsneakypeek 💄 ✨."
Not only can us OG Too Faced fans get our hands on the original eye shadow shades, but also 10 brand-new versions of their first lipsticks ever. No word on when the '90s-inspired pieces will be available, but when they are, I'll be totally buggin'.