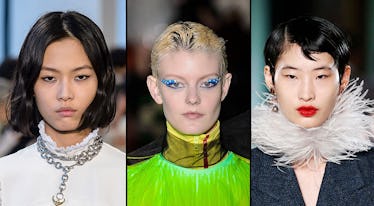 These Winter Beauty Trends Are The Ones You Need To Try, According To The Pros & The Runways
Shutterstock; Shutterstock; WWD/Shutterstock
It's the most wonderful time of the year! Yes, the holiday season, but in particular, I was acknowledging the fact that it's time for us to indulge in the top winter 2018 beauty trends. As we prepare to be walking in a winter beauty wonderland, it can't hurt to take some notes from the pros on what kind of looks we can expect to see this season, from statement eyes to flushed complexions, so I've turned to some of my favorite makeup artists to asked them what they're loving for winter glam, as well as for any tips on how to recreate the runway's most popular looks for the season.
For Skin: Natural Glow + Flushed Cheeks
If last winter had you desperate to find the most mattifying face products out there, rest assured that this season, the goal is a complexion that glows. "Skin is in, so get your skincare game on and look for foundations that are on the dewy side, with light coverage that looks transparent, not opaque," says Mickey Williams, professional makeup artist and founder of Share The Glam. "Glossy skin is the new matte, and will continue on through spring, so it's a good time to find your perfect match."
The models at the Balmain AW18 fashion show all had skin that looked refreshed, revitalized, and positively post-facial:
Models at other shows, including Isabel Marant and Off-White AW18, also had plump, youthful-looking complexions. Keep in mind, it's hard to fake that natural shine-from-within with your standard glittery highlighters — because of this, achieving the look is really all about the skincare. The Aavrani Glow Activating Exfoliator ($70, aavrani.com) is a perfect prep step the night before an event where you need skin to look radiant, thanks to powerhouse ingredients like turmeric, neem, and honey.
"Hydration is everything in the winter. Before applying your makeup, get the best from your skin by using a face mask first," insists professional makeup artist Jami Svay, who swears a good mask is the ultimate getting-ready ritual for models backstage at fashion week. To steal their secrets, indulge in the La Bruket 179 Hydrating Face Mask ($52, labruket-usa.com) and go light on actual makeup with a sheer, perfecting base product like Charlotte Tilbury's Light Wonder ($46, charlottetilbury.com)
Along with a dewy glow, models at Balmain, Christopher Kane, Prabal Gurung, and other shows sported flushed cheeks instead of a chisled contour. "Thanks goodness the baking and caking of brown contour is over," says Williams of the more dramatic trend of seasons past. "We are seeing softer, more rounded, softly blushed cheeks that look fresh and youthful, as opposed to painted on."
Here's Bella Hadid with her chic cheeks blushed to the nines at Prabal Gurung's AW18 show:
This trend works especially well when the skin has a slightly bronzed tone to it, so warming things up with a product like the Bondi Sands Everyday Face Gradual Tanning Milk (bondisands.com) will really enhance the look. A dab of Stila Convertible Color ($25, stilacosmetics.com) on the cheeks (and the lips, if you'd like!) can create the look of an authentic blush in seconds — or, you can step outside on a cold day and pray your natural flush lasts long enough for you to selfie.
For Eyes: Glitter Lids + Lots of Liner
There were two major eye trends ruling the fall and winter catwalks, and they're bound to be equally prominent over the next few months: sparkly, shimmery glitter eyes, and liner so bold, your go-to wing pales in comparison.
The Thornton Bregazzi AW18 show featured glitter freckles that spread from the hairline to the eyes, and the Giambattista Valli show went all out with glitter-bombed complexions:
Granted, I probably won't wear these looks on the daily, but I'll definitely channel their drama as inspo. Makeup artist Neil Scibelli can't get enough glitz this winter, and says it's the ultimate eye trend of not only the season, but 2018 overall. "Glitter has been a huge trend the past year, and i don't think it's going away. Brands are making really beautiful glitter eye products, like liquid glitter eyeshadows, shimmer eyeshadow crayons, and glitter liners - which are festive for winter and dress up any makeup look." A generous smudge of a Marc Jacobs Beauty See-quins Glam Glitter Eye Shadow ($28, marcjacobs.com) is the perfect glitter go-to for anyone who really wants to make a statement, as the gritty flecks give off major sparkle. If you're looking to channel an all-over shimmering vibe without the huge flecks of glitter itself, the Jill Stuart Beauty Jelly Eye Colors ($20, jillstuartbeautyusa.com) will be more your speed. Simply touch your finger to the potted shadow's gel-like formula, and swipe it onto the lids for one-step shine.
"AW18 is filled with lots of subtle '60s fashion references," notes makeup artist Andrew Sotomayor, who cites liner as one of the major players in the 1960s beauty game. "If you've been stuck in the 1940s with winged liquid liner, use a black gel liner, like Covergirl Just Gimme Noir Gel Eyeliner ($6, amazon.com)."
Brands like David Koma, Coach, and Chloe (see below for the latter) played up jet-black graphic lower liner moments:
However, others like Prada went all out with color:
"Graphic liner in bright tones was a big hit on the runways. I love this look since most of us tend to go drab when the weather gets chillier." says Williams. The lines are thick and can be worn on the top and bottom." Prada opted for a bright, bedazzled flick, Eudon Choi went for a graphic circle of color, and Tibi and Christian Siriano both utilized at least two shades of liner per look.
If you're a pot liner kind of gal, the Tarte Cosmetics Clay Pot Waterproof Shadow Liners ($21, tartecosmetics.com) will be your BFFs when it comes to their ten colorful options. If a pencil affords you more precision, the Urban Decay 24/7 Glide-On Eye Pencil ($21, urbandecay.com) should have you covered with 48 shades. If you're a ride-or-die for liquid liner only, Kat Von D's Ink Well Long-Wear Matte Eyeliner ($20, katvondbeauty.com) comes in six edgy shades, including a pure white.
For Lips: Bold Hues + Hydrating Formulas
Finally, the lips are the last category making a major statement for this year's winter beauty trends, and if you were hoping for toned-down nudes, I'm sorry to say you'll be disappointed. "We're seeing the trend of bold lips continue," says Scibelli, "Which I love because it's all reflected on one's personality and mood. Deep reds, plums, and even blue's will make their way through the winter."
Models at Alexander McQueen's AW18 show rocked ruby red pouts, while the ladies at Erdem had on lipstick that almost appeared to be smoked out, in a perfectly imperfect, unlined shape:
To get a similar look, generously apply something like the ILIA Tinted Lip Conditioner ($28, iliabeauty.com) in shade "Crimson & Clover," and feather it out around the lip line using a small eye shadow brush. Even though bold hues are in, most MUAs insist that the formulas themselves don't have to be so intense. " Look for products that are hydrating so you can reapply all day, especially if you live in cold weather temps," says Williams. So long, dry, flaky matte lippies!
In addition to reds, winter 2018 will make a case for classic pinks, too. "In the 60's, pastel pink lipsticks became popular because new technology made it possible to grind titanium dioxide," says Sotomayor, who thinks the shade is perfect for a sheer pop of color on the lips. "To get a sheer hint of that effect, used a tinted pale pink lip balm like the Ogee Tinted Sculpted Lip Oil ($26, ogee.com) in "Magnolia". It's moisture and color in one, and in a shade that looks nice even as it fades."
Considering the fact that I am both insanely extra and a creature of comfort, I'm really feeling the mix of this winter's beauty trends. Bold liner and glittery eyes paired with natural skin and comfortable lippies feels like the ultimate happy medium of lazy-girl glam to me, and I'm about to take these makeup artists' runway-approved tips and create some looks to last me all the way to spring.