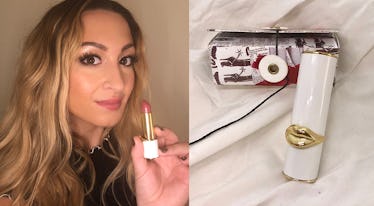 The New Pat McGrath Lip Fetish Sheer Colour Balms Are Stunning, Hydrating, & Splurge-Worthy
Courtesy of Bella Gerard
While I'm all for a drugstore product that gets the job done, I admit to being equally fascinated by the top tiers of the beauty world and their lavish, luxe launches. What's not to love about fun products in fancy packaging? My only complaint is that, in some instances, you're paying extra for the name brand and not the quality of the formula itself — fortunately, this Pat McGrath Lip Fetish Sheer Colour Balm review proves that this is not one of those times. If you're looking for a splurge product this fall, this balm is it, and I'm prepared to break down exactly why.
The world of high-end, luxury beauty is both enticing and frustrating. While a hefty price tag can often indicate better quality formulas and more extravagant packaging, along with more inclusive shade ranges and better customer service, none of these bonuses are guaranteed. A lot of the time, beauty lovers like myself can find the results we want for half the price elsewhere, so even though I occasionally feel tempted, it's more often than not quite easy to resist. However, that's not to say all pricy products aren't worth the hype, and it's easy to tell when a brand has put real heart and soul into creating makeup that's worth every penny. If you haven't caught my drift by now, Pat McGrath Labs is without a doubt one of these thoughtful, creative, worth-the-hype brands.
The iconic, endlessly talented Pat McGrath is one of the most — if not the most — well-known and well-respected makeup artists in the biz. It might seem like I'm fangirling just a bit, and I am, but it's impossible not to. Even Anna Wintour of Vogue fame has referred to McGrath as "the most influential makeup artist in the world," so it's safe to say she knows her stuff. When she announced the launch of her own cosmetics line, Pat McGrath Labs, back in 2015, the beauty world was shook to its unprimed core, and we knew to expect only bomb products from the brand. Fast-forward to 2018, and she's delivered exactly that, my favorite of which has to be the new Lip Fetish Sheer Colour Balms ($38, Pat McGrath), particularly the shade "Love Supreme 522."
Before we get into why I'm so obsessed with the latest lippies, we need to discuss why it was the best possible formula for the brand to launch next. Prior to the Sheer Colour Balms, there are already three existing bullet lipstick formulas within the line, all of which are beautiful, but none of which quite hit the spot for me in this moment like the Sheer Colour Balms do so well.
The Mattetrance Lipsticks ($38, Pat McGrath) are incredibly pigmented and opaque, but with the dewy trend still alive and well, even now at the start of fall, I'm not sure matte is the move for me. The LuxeTrance Lipsticks ($38, Pat McGrath) are equally stunning but with a bit more hydration, but to be honest, the whole no-makeup makeup trend has me craving more of a lightweight, sheer finish. You'd think I'd be satisfied with the Lip Fetish Lip Balm & Astrals ($38, Pat McGrath), but if I'm frank, I'm just not much of a glitter girl, so I never really got on the whole shimmery lipstick bandwagon. Keep in mind, all three of these formulas are ravishing, and live in the most perfect lipstick packaging of all time. Still, your girl had to be patient and save her coin until the perfect formula for me was released.
For a while, it seemed I'd never get my chance to glide one of McGrath's creamy, pigmented products across my lips. I seriously binged any and all posts featuring her lippies and patiently waited for my dream formula's time to shine:
Fast-forward to me, backstage at the Anna Sui show for New York Fashion Week, where I've just been told Pat McGrath Labs is in charge of the models' makeup, and I am hyperventilating at the sheer thrill of watching it all unfold. As the iconic Pat breaks down the look, she generously slips her interviewers each a sample of her newest formula, the then-not-yet-launched Lip Fetish Sheer Colour Balms ($38, Pat McGrath), in the shade "Love Supreme 522."
Believe me when I say, I wiped off whatever basic lip product I was wearing and applied this thing immediately, and I haven't worn anything else ever since. Here it is on model Soo Joo Park, backstage at the show:
Plus, it's got that signature Pat McGrath packaging that I can't stop staring at:
OK, so here's the thing: Do you need a pricy lip balm? No, of course not. What I'm getting at is, should you be in the market to splurge on a fun beauty product, the Lip Fetish Sheer Colour Balms ought to be at the top of your list. The shade "Love Supreme" in particular is also a great pick because it's so universally flattering, thanks to its cool, berry-rose undertones.
Here's me, looking a little frizzy, without anything on my lips:
Now, me again, but with a healthy coat of shade "Love Supreme":
Finally, me a few hours later, when the shine had faded, but a wash of berry color still remained (and, IMHO, looked great):
Personally, I love the shine of the freshly-applied lipstick, but if I want it to look more subtle, I'll blot it right away to get that slightly more matte look, without losing the comfortable, hydrating feel. I love how this product sits on my lips without accentuating any chapped areas, and the way it adds some color to my face without making it look like I've got on a ton of makeup. I daresay it's the perfect balance of looking good and not trying too hard.
With the above in mind, I would recommend this lippie to just about anyone, and I'm glad I've finally come across the perfect Pat McGrath-approved formula for me. The Lip Fetish Sheer Colour Balms come in nine shades, all of which are shoppable on the brand's website, and all of which I will now save up my money to buy, because I know a good product when I see one.