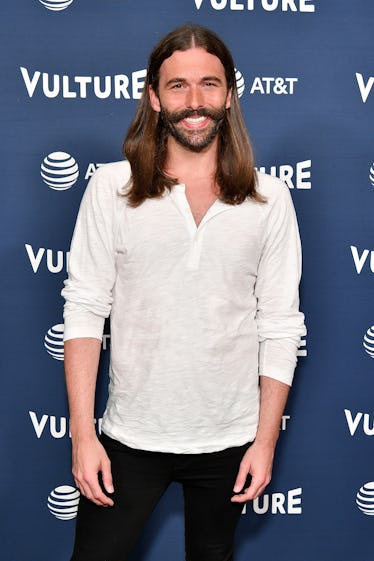 'Queer Eye's Jonathan Van Ness Shared More Of His Fav Beauty Buys, Including This One Drugstore Staple
Dia Dipasupil/Getty Images Entertainment/Getty Images
If you've had a chance to tune into Netflix's hit series Queer Eye, then chances are, you're probably just as in love with the cast members as you are with each one of the guests. But if you're not already a fan of the show's beauty and grooming expert, then finding out some of his favorite products to use may be just what you need to get on board. In an as-told-to with Glossier's Into The Gloss (ITG), Jonathan Van Ness revealed his favorite beauty products, and believe it or not, you can even find one of them at your local drugstore.
Like all beauty lovers, Van Ness understands the importance of sunscreen, but he doesn't believe you need to spend a fortune to get the best UV protection in the summertime. "Why spend $30 on sunscreen when you can get an $8 one from Neutrogena?" he told ITG. While he didn't reveal exactly which one is his fave, the company carries a variety of sunblock products — from Ultra Sheer Dry-Touch Sunscreen Broad Spectrum SPF 70 to Sensitive Skin Sunscreen Lotion Broad Spectrum SPF 60+, and more — all around the $8 mark that can be picked up just about anywhere.
The 31-year-old also believes in protecting your hair from the sun's harmful rays as well. He previously told Elite Daily that he recommends using Aveda's Sun Care Protective Hair Veil ($29, Aveda) before blow drying.
But aside from sunscreens, the Gay of Thrones host definitely isn't afraid to splurge when it comes to his skin, hair, and even his teeth, all of which explain his amazing glow. Van Ness shared with ITG that he's a fan of cleansing his face while in the shower, and swears by Anti-Aging Cleansing Gel by Peter Thomas Roth ($38, Peter Thomas Roth) if his skin feels "grimy" or Marula Foaming Cleansing Oil ($36, Marula) if he's looking for a gentler wash.
The Queer Eye star explains that he applies the cleansers to the Exfoliband™ Silicone Loofah from Nurse Jackie ($16, Dermstore), and then uses the loofah on his face. He's also a huge fan of Kate Somerville's ExfoliKate Gentle Exfoliating Treatment ($65, Sephora), but warns of the dangers of overdoing it with scrubs. "The thing about exfoliators is that when you put it on and start scrubbing, you can literally take your f*cking skin off," he said. "You know what I mean? You really don't have to go hard — it's just light, light touchies."
He told ITG that he follows up with a number of serums, including Pearlessence Radiance Perfect Serum ($17, Amazon) with vitamin C and hyaluronic acid, and Midnight Shift Overnight Facial Oil by Moonlit Skincare ($34, Moonlit).
As for hair, Van Ness previously told Elite Daily that he loves using Wonder Worker Air Dry/Blow Dry Multi-Tasking Primer ($33, Shu Uemura ) from Shu Uemura before a blow dry and Hairstory's New Wash ($40, Hair Story) to avoid drying out his hair with too much shampoo. According to him, it's made a world of difference for his tresses. "I used to have to clear gloss my hair for shine. That was the only color that I did," he said. "But ever since I started doing co-washes, I don't keratin and I don't gloss. [Co-washes] made the other services I used to need to do to my hair not necessary, which I think is fun."
Of course, he doesn't skimp out when it comes to his teeth either. He told ITG he loves Dazzlepro's Elements Sonic Toothbrush ($80, Bed Bath and Beyond), followed by a good flossing sesh with Desert Essence Tea Tree Oil Dental Floss ($5, Amazon).
But out of all the beauty tips, products, and tricks he has, the best beauty advice Van Ness gives is to just do it all to make yourself happy. "Whatever it is, just do it for yourself because the second you do it for someone else, you can get your feelings hurt," he said in the above clip. "You just have to have fun for yourself."
This guy truly has a heart of gold!