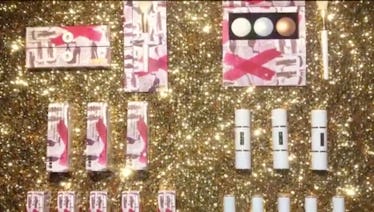 Pat McGrath Is Bringing Back Some Sold-Out Favorites With A New, Shimmery AF Collection
Cult beauty lovers are no strangers to the magic that is Pat McGrath. So when it was announced last fall that her brand Pat McGrath Labs would be releasing 61 products for the Unlimited Collection, available year-round, I, for one, definitely breathed a sigh of relief. But as per usual, Mother still uses the occasional cryptic tease to get us amped for a new limited edition product launch or re-release. This time around, it's for Pat McGrath's Skin Fetish collection, just in time for summer, to give you some extra glow.
In typical McGrath fashion, the makeup artist and businesswoman released an ambiguous video on her Instagram page on Tuesday, June 12. captioning the clip, "LET THE COUNTDOWN BEGIN ⚡⚡⚡ Something MAJOR is coming - SIGN UP NOW at PATMcGRATH.COM to be the first to know..." Most of us, unsurprisingly, we're left wondering for hours what exactly she was up to, seeing as the video concluded with just the words, "Coming soon..."
Thankfully, a few hours later, the cat was out the bag when it was announced that McGrath would be releasing an entire Skin Fetish collection, bringing back some old sold-out favorites in the process. The full collection includes a restock of the Highlighter + Balm Duo shades in "Golden" and "Nude," along with the newest addition, "Bronze," a Sublime Skin Trio Highlighter Palette, the Buffer Brush 003, and Lip Fetish Lip Balms, which are now available in four brand new shades — "Nude Astral," "Gold astral," "Bronze astral," and "VR pink astral." This is major.
The products won't be on sale until June 21, so we'll all just have to wait a little bit longer to get our hands on them. They'll also only be sold through PatMcGrath.com for the first week. Then, on June 28, they'll be available to purchase in Sephora stores, according to Fashionista.
Now, let's talk about how much damage we'll be doing to our bank accounts when we snatch this collection up, shall we?
Fashionista reports the Sublime Skin Highlighting Trio Palette will set you back about $68, while the Buffer Brush 003, which will feature two bristle lengths for easy highlighting with cream, liquid, or powder, will reportedly be $25. The Highlighter + Balm Duos will reportedly retail for about $55, and the Lip Fetish Balms are priced at $38 and won't be up for sale until July 10.
Last November, McGrath took a musical approach when it came to announcing the release of her "So Obsessed" lipsticks, alongside artist Maggie Lindemann. While Spotify listeners tuned into the musician's latest tracks, they were able to shop some stellar products through the service's merchandise partner, Merchbar.
"Beauty, fashion and music have been intrinsically linked since the 1960s," McGrath said at the time of the collaboration, as reported by Teen Vogue. "That's why this relationship with Spotify is absolutely major, because it merges beauty and music in a whole new way, that's never been done before."
Among the products sold in partnership with the music streaming service was McGrath's LiquiLust 007 Singles, which remains my favorite lipstick line to date. "Revelation Red" is my jam, and everything from the formula to the applicator brush is an absolute dream. Sadly, they're currently out of stock, but I'd be lying if I said I wasn't yearning for another color.
But if you're not the type to shop online, or to use Spotify for that matter, Mother has a range of products that are sold exclusively at Sephora, like her Lust Lip Glosses and Subliminal, Sublime, and Subversive eyeshadow palettes, all of which have four- to five-star reviews, naturally. Of course, when you purchase in-store, there's no guarantee stock will be available, but at least you'll be able to test out some of Mother's best products for hours on end. Who could complain about that?