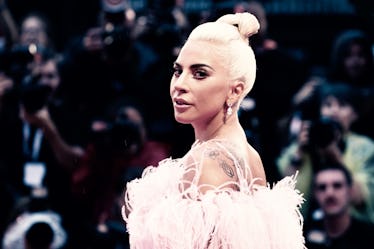 Lady Gaga's Makeup On Her 'Vogue' Cover Is Giving Me A Million Reasons To Love Drugstore Beauty
Andreas Rentz/Getty Images Entertainment/Getty Images
When it comes to over-the-top style, Lady Gaga is one pop star who has always reigned supreme. From rocking corset hair at the Grammys, to sporting that unforgettable meat dress at the 2010 MTV Video Music Awards, Gaga's looks have rarely been noted as anything close to subtle. But with her latest film A Star Is Born now premiering at film festivals around the globe, the award-winning singer has taken her subdued look from the big screen into the real world.
Gaga's Vogue cover for the publication's October issue is a stark contrast to what most of us are used to seeing from the singer — but regardless of her subtle makeup, the 31-year-old is undeniably stunning.
To create her minimal beauty look, Gaga's long-time makeup artist Sarah Tanno used products solely from L'Oréal Paris, according to Vogue, all of which can be found at most drugstores. And here's the best part: according to Allure, Gaga's entire look, from start to finish, can be recreated for only $50. Fortunately, for anyone who's looking to create a softer look as the season's change, Vogue gave readers detailed insight into exactly what Tanno used to give Gaga that gorgeous, natural glow for the cover.
First, the makeup artist started with L'Oréal's True Match Super Blendable Makeup in Cream Ivory ($10.99, Ulta) to match the performer's fair skin, followed by Infallible Longwear Blush Shaping Stick in Sexy Flush ($10.99, Amazon) for her cheeks.
For her eyebrows, Tanno used Brow Stylist Definer in Brunette ($8.99, Ulta), followed by dusting Infallible Paints Metallics Eye Shadow in Rose Chrome ($7.99, Amazon) on her lids. Then, the makeup artist finished up with Colour Riche Shine Lipstick in Shining Peach ($7.97, Amazon) to give Gaga the perfect nude lip.
According to Vogue, it was Gaga's new film — that she stars in alongside Bradley Cooper — that inspired the new toned down look, which she told the LA Times took some time to get used to, since makeup has always been such a big part of her identity. "It put me right in the place I needed to be, because when my character talks about how ugly she feels — that was real," Gaga told the publication. "I'm so insecure. I like to preach, but I don't always practice what I preach."
The pop star also shared how her view of beauty has changed since being in the music industry for a decade. "To be honest, I think what makes me feel beautiful is when I see happiness in my fans," she said. "When I see or hear from them that the music that I've made has changed their life in some way, that's what makes me feel beautiful."
She continued, "I could be in a million movies and put out a million songs and everyone could say, 'She was so beautiful,' but that's not really what I want. I want them to say, 'I saw that movie and I cried my eyes out and I learned something about myself.'"
Damn, is someone cutting onions in here?