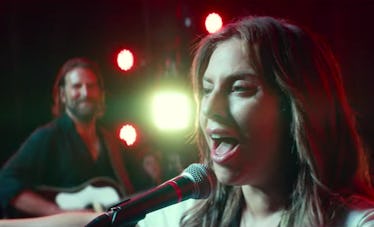 This Clip Of Lady Gaga Singing In 'A Star Is Born' Will Give You Chills
Warner Bros.
Should Lady Gaga just get her Oscar nomination now or what? Bradley Cooper's directorial debut A Star Is Born isn't even out in theaters yet, but it's definitely one of the most buzzed-about fall movies. The hotly anticipated remake features Gaga as talented unknown singer Ally, who rises to fame with the help of washed up country crooner Jackson Maine (Cooper). If you need something to hold you over before it premieres, there's a new A Star Is Born clip of Lady Gaga singing that should do the trick.
The A Star Is Born trailer promises an epic showbusiness saga that will likely bring audiances to tears and to their feet praising both Gaga and Cooper's performances. In fact, moviegoers are already applauding the upcoming movie. It's been reported that viewers at August's Venice Film Festival gave its debut an eight-minute standing ovation, even after a lighting glitch interrupted the screening. Early reviews have additionally been glowing. With winning endorsements from the cinematic community and built-in Gaga super-fandom, it's looking like A Star Is Born is on its way to becoming a huge hit. The film's official Twitter account offered up a sneak peek at its musical magic on Sept. 5 and surprise, surprise: Lady Gaga and her voice are spellbinding.
Gaga's Ally sings an original tune she wrote on the spot about Cooper's Jackson character in the clip.
"I starting writing that song the other day, maybe that could work like as a chorus," she suggests before launching into a more powerful portion of her melody-in-the-making. Jackson looks rightfully mesmerized by her performance presence and vocal ability. As she continues to croon, cuts from the movie are montaged, giving A Star Is Born audiences more moving tastes of what's to come.
"Can I tell you a secret?" Jackson tells her towards the end of the clip. "I think you might be a songwriter."
If that glimpse doesn't make you want to run to theaters on Oct. 5, I'm not sure what will.
A Star Is Born is a classic Hollywood story at this point. The movie's been reimagined a handful of times since the original version starring Janet Gaynor and Fredric March came out in 1937. Judy Garland brought it back to life on screen in 1954 to critical acclaim and Barbra Steisand took the tale on in 1976. To say Gaga's following in the footsteps of musical icons is an understatement, but she's legendary in her own right — that makes her the perfect candidate to do the retreaded role justice. But how is she different from the character she's portraying? She told the LA Times:
I really believed in myself that I could do this and that I wasn't going to stop until I made it. ... The truth is, when we meet Ally, she's given up on herself. And that's very different from me. I just wasn't overwhelmed by the odds. The truth is, if we were not sitting here today and I hadn't sold as many records as I have, I'd still be in a bar somewhere playing the piano and singing. It's just who I want to be.
No matter how Lady Gaga got to where she is today, loyal fans are grateful for her influential contribution to the entertainment industry and they can't wait to see her shine on the big screen in A Star Is Born.
A Star Is Born hits theaters Oct. 5.