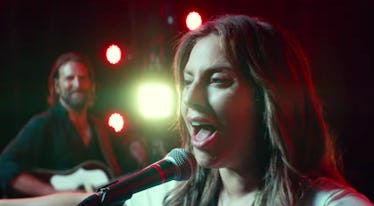 The 'A Star Is Born' Trailer Is Here & It Includes A New Lady Gaga Song
Warner Bros.
Lady Gaga is becoming a star yet again in her new movie A Star Is Born, and now fans can finally get a glimpse of her first major movie role because the A Star Is Born trailer is finally here! The trailer gives us our first glimpse at Bradley Cooper's fading rock star Jackson falling for Lady Gaga's aspiring singer Ally, and it also includes a taste of a brand-new song that Gaga will perform in the movie.
The A Star Is Born trailer introduces us first to Bradley Cooper's character, a gruff cowboy-type musician named Jackson Maine who seems to be succumbing to alcoholism and failing at his once-successful music career. Jackson happens upon Ally (Lady Gaga) as she performs at a bar one night, and encourages her to sing her own music instead of covering other people's songs. The two quickly fall in love, which we see in a sweet romantic montage, and finally, Jackson brings Ally onto a concert stage with him where she belts her heart out. Lady Gaga is performing a snippet of her new song "The Shallow," which was produced by Mark Ronson and will likely be the big number from the musical movie.
Check out the full trailer for A Star Is Born below:
A Star Is Born is the directorial debut of Bradley Cooper, who also cowrote the screenplay and produced the upcoming movie. The film is an adaptation of the 1937 film of the same name, which starred Janet Gaynor and Fredric March as an up-and-coming actress and an older movie star on the decline. Although the original movie was strictly about acting, each of its three remakes have transformed the main characters into singers and turned the story into a musical. A Star Is Born was first remade in 1954 with Judy Garland and James Mason, and then again in 1976 with Barbra Streisand and Kris Kristofferson. Lady Gaga and Bradley Cooper's A Star Is Born will be the fourth movie of its title made.
The adaptation marks a huge moment in Lady Gaga's career. Not only will it be the pop star's first major movie role, but she is also taking up the torch from two of the most iconic singer/actresses of past decades: Judy Garland and Barbra Streisand. Although Lady Gaga often shows off her acting skills in her cinematic music videos, she has relatively few official acting credits to her name before now. She had a small part in 2014's Sin City: A Dame To Kill For before taking her first starring acting role as the vampiric Countess on American Horror Story: Hotel, which won her a Golden Globe.
Lady Gaga shared her excitement for the A Star Is Born trailer being released on Twitter, praising Bradley Cooper's talents as a director, actor, and musician, and writing that it was a dream come true to be part of the movie.
The movie's newly created Instagram account also shared character posters for A Star Is Born, which feature Lady Gaga as Ally and Bradley Cooper as Jackson. You can check out all three of the new posters below:
A Star Is Born will also star Sam Elliott, Dave Chappelle, Andrew Dice Clay, Anthony Ramos, and Halsey. RuPaul's Drag Race stars Willam Belli and Shangela will also be featured in the movie.
Thankfully, we don't have to wait too much longer to see A Star Is Born for ourselves. The buzzy musical drama will hit movie theaters on Oct. 5, 2018, which is right in the thick of Oscars season — I'm just saying!