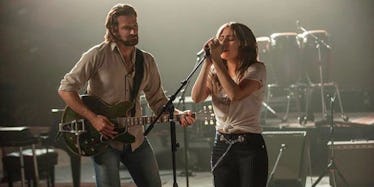 Lady Gaga's Movie Got A New Release Date & It's Sooner Than You Think
Warner Bros.
After the release of Chris Moukarbel's Netflix documentary Gaga: Five Foot Two, it seems as if there is nothing Lady Gaga can't do. The nearly two-hour long special presents the star from various angles as a singer, an actress, and a businesswoman, all while showcasing moments of intense pain, overwhelming joy, and genuine vulnerability from her life. Though a different style of film, Five Foot Two serves as an appetizer ahead of Gaga's upcoming screen work. Indeed, the documentary's opening scenes celebrate the beginning of her film collaboration with Bradley Cooper, prompting fans to ask: When does A Star Is Born premiere?
Until recently, the Cooper-directed drama was scheduled for a September 2018 premiere, which would have put the film right at the beginning of next year's unofficial Oscar season; Variety confirms, however, that A Star Is Born is now slated for release on May 18, as part of a "strong counter-programming move" on the part of Warner Bros.
With this change, ASIB will compete with next year's expected summer blockbusters — which include Avengers: Infinity War, the currently untitled Han Solo project, and Slender Man — rather than with the barrage of Oscar hopefuls that will hit theaters in the fall of 2018. On one hand, in terms of awards show eligibility, this could be a risky move since a vast majority of Oscar-winning films are released during the fall of each year; on the other hand, though, in terms of box office numbers and paychecks with lots of zeros on them, this could be a brilliant strategy for the studio.
Of course, a May release doesn't render A Star Is Born ineligible for nominations at major awards shows, and if Lady Gaga's dedication to the project is even half as strong as her commitment to acting has been in the past, then I'm sure she'll snag a few Best Actress nods come awards season.
Gaga has shown off her acting chops before in smaller film roles like Machete Kills and Sin City: A Dame to Kill For, as well as on television in her Golden Globe-winning performance as The Countess in American Horror Story: Hotel, but A Star Is Born marks her first foray into the world of big-budget film acting. Eventually, we all knew this day would come since the star herself previously told The New York Times "[She] always wanted to be an actress."
In the film, Gaga — who will be billed as Stefani Germanotta — plays Ally, a young musician on the rise, opposite Bradley Cooper's Jackson, a country music singer with a career on the decline who mentors Ally as her music takes off and her fame reaches new heights. Something (read: Wikipedia) tells me there will be some sort of great love between the two that will likely be complicated by Ally's success, so if you don't care about the drama at least you'll get to see Gaga and Bradley Copper kiss.
If you can't wait until May of next year, though, you can always watch one of the original three versions of A Star Is Born on which Bradley Cooper's version is based. (Seriously, this movie has a longer lifespan than most turtles.) Gaga is the fourth actress to take on the role after Janet Gaynor (1937), Judy Garland (1954), and Barbra Streisand (1976). Literally legends only.
As is the case with many reboots, the plots are subtly different in each film, but the core story remains the same. This time around, Gaga wrote and will perform original music as Ally, and she'll be joined by actors like Andrew Dice Clay, Sam Elliot, and Dave Chappelle. I don't know about you, but seeing Gaga on the big screen sooner rather than later seems like great news to me.