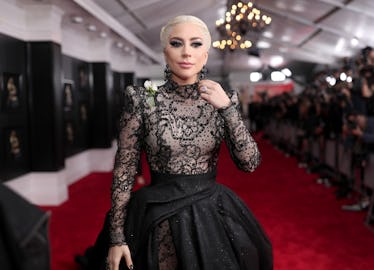 Lady Gaga's Grammys Hair Is Mesmerizing & Twitter Can't Comprehend It
Christopher Polk/Getty Images Entertainment/Getty Images
Mother Monster always delivers. In the past, the queen has served us the most iconic awards show moments, including meat dresses, waist-length Donatella hair, faux blood, and the occasional life-size mechanical horse. Now Lady Gaga's 2018 Grammy hairstyle is basically breaking down Twitter — because, once again, the master of pop and art always creates a buzz.
If you're a Gaga stan, you know hair is very important to our Mother. After all, she has a whole song dedicated to it. As she proudly sings, "in the spirit of my hair, it's all the glory that I wear." She's rocked Marilyn-esque yellow tresses during the "Telephone"-era, detailed coifs for her stint as the Countess, and mint blunt bobs in bathtubs as she prepared to "Marry The Night." You might recall her famous and numerous literal hair bows, Pepsi can rollers, chunky black lowlights, silver-before-silver-was-cool wigs, and blunt, flared chop that she sported on the cover of The Fame album. Every hair move by Lady Gaga is carefully calculated and designed, and her 2018 Grammys hair only shows how elaborate her coifs can get.
Gaga arrived on the carpet in a gorgeous black gown, dramatic black winged liner spangled ala her makeup artist Sarah Tanno, and most importantly, a Game-of-Thrones-meets-Museum-of-Modern-Art braid. Seriously, I would pay any price of admission to just ogle at her hair. Her long blond hair was braided in an elaborate manner that culminated in singular platinum plait that trailed down her back. Now the braids themselves were a feat, but it's really the way her hair was laced with black string that threw the interwebs into a tizzy.
Naturally, Twitter had a field day. TBH, when I searched "Lady Gaga hair" on Twitter, my internet actually froze. Kim Kardashian may have helped to coin the phrase "break the internet," but Gaga is one of the only queens that does it continuously over and over again. Seriously, getting my Twitter to load was nearly as difficult as landing MetLife stadium tickets to her recent Joanne tour, but, luckily, not nearly as high stakes.
Behold, indeed. Have you even seen a look like this on the red carpet before?
This Twitter user is giving credit where credit is due. Gaga's hair and makeup are really shutting it down, but really, did we expect anything less?
Maria here is asking the Twitter-verse if someone has the skill to recreate this iconic Gaga hair do on her. I actually have the same inquiry. Can anyone do this for me please? I'll pay you in sarcasm and pizza.
This kid knows where it's at. Gaga is a straight-up corset head and I'm not mad about it.
This Gaga fanatic is just calling out what we already know. Barely 10 minutes into the red carpet, and Gaga is setting the bar higher than anyone can possibly reach. She's a perfect 10 in general.
Of course, because we can't have nice things, there are also nay-sayers who came out of the Twitter depths to critique the literal art installation that is Lady Gaga's head. This person compared her locks to a sneaker.
However, all true Gaga fans know this tweet to be true.
In case you want to recreate this already-iconic look on yourself, you can visit Gaga's pal and hairstylist Frederic Aspiras on Instagram and peep the products he used. Some key players include John Freida Frizz Ease Curl Reviver Mousse ($7; Riteaid.com), John Freida Luxurious Volume Forever Full Hairspray ($5; amazon.com), John Frieda Luxurious Volume Full Hydration Detangling Mist ($12; ebay.com), John Freida Frizz Ease Clearly Defined Styling Gel ($7; ulta.com), and miles and miles of hair extensions.