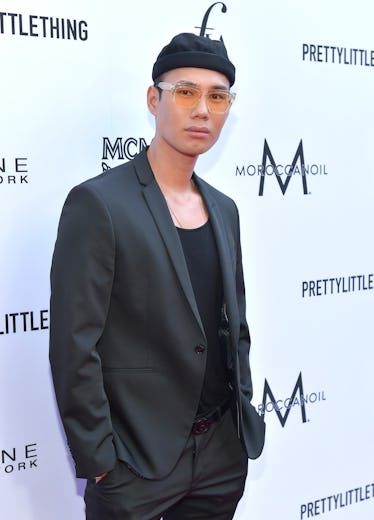 Celeb Makeup Artist Patrick Ta Reveals The Fall Beauty Trend He Thinks Will Be HUGE — EXCLUSIVE
Neilson Barnard/Getty Images Entertainment/Getty Images
Don't you wish you could just sit it front of your favorite makeup artist of all time and have them teach you everything they know? God, same. I'd ask them so many questions, they'd probably take a restraining order out against me. (Kidding but not???) Well, what if I told you that possibility would soon be a reality? No, no, don't thank me. Thank NYX Professional Makeup.
The brand has officially launched Masterclass, an extensive online library of educational makeup videos hosted by some of your fave IRL makeup professionals and online beauty vloggers, such as NikkieTutorials, Saisha Beecham, and one of my absolute favorites, Patrick Ta. In honor of the launch of Masterclass, Patrick Ta shares the fall beauty trend he thinks will be huge, his thoughts on how social media has shaped beauty, what he's most excited about with the Masterclass, and much more with Elite Daily.
If you follow the likes of Gigi and Bella Hadid, Shay Mitchell, Jenna Dewan, Ariana Grande, Chrissy Teigen — I could go on — then it's likely you've already ogled at Ta's work. Having skillfully crafted some of the most stunning makeup looks for red carpets, press tours, and magazine covers alike, Ta is so graciously sharing his beauty expertise with the world thanks to Masterclass.
He, @NikkieTutorials, Saisha Beecham, @iluvsarahii, Amber Dreadon, Angel Merino, Denika Bedrossian, and Joseph Carrillo all make up NYX's 2018 class of Masters. As you can see, NYX has incorporated both the makeup geniuses behind some of your favorite celebs, films, and TV shows, and the beauty experts you likely follow religiously on social to bring you masterclasses that touch on all aspects of beauty — both professionally speaking (i.e. red carpets and film) and from a social standpoint (i.e. vlogs and YouTube). All of these educational videos, which span from the most beginner-level tutorials to advanced technical how-tos, are available to watch on NYX's website.
As NYX is bringing together social media beauty moguls and traditional makeup professionals, Ta reflects on the intersection of social media and beauty, and how beauty has changed in the digital age. "Social media has pushed creatives to 'perfect' their artistry," he says. "With the opportunity for thousands to look at your work, there is no wiggle room to not do your best."
Despite the pressure on artists to produce "perfect" work, however, Ta emphasizes that this perfection is actually one of the biggest misconceptions when it comes to beauty on social media, as "not everyone is perfect in person." He continues that, as perfectly curated as someone's life and look might seem on social media, we should all understand that this isn't always the truth IRL.
Yes, looks can be deceiving on social media, but you can't deny its power to govern some of the biggest beauty trends of a season — and you really can't deny that some of these trends get pretty wild. Although Ta says trends don't always stick around for long anyway, he does name one trend he'd be OK with ditching soon: "The one trend I could definitely live without is over-highlighting." You know what he means. The trend where it looks like you stuck a huge lightbulb in your mouth and every part of your face is lit up. To each their own, of course, but if you're looking for a highlighter that does the job — but doesn't overdo the job — Ta personally loves NYX's Born to Glow Highlighting Palette ($25, Ulta).
Speaking of beauty trends, a new season upon us means a whole new set of beauty trends everyone's obsessing over. Thinking on the trends that will be huge for fall, Ta puts "color blocking" at the top of the list. In short, the color blocking trend involves the strategic use of large blocks of color on the face, typically in the form of graphic eyeliner and eyeshadow. Ta says that if you're using different bold colors on different parts of the face, say the eyes and the lips, then making sure you coordinate the two "is a must."
Learning the best ways to apply brightly colored makeup is just one of the many techniques offered through Masterclass. And we, dear reader, are the luckiest, as Ta shares with Elite Daily even more of the essential tips and tricks he's learned throughout his career.
When it comes to giving your skin the "flawless finish" you see on all your fave stars, Ta says, "Hydrated skin is key." If that doesn't convince you to triple your daily water intake and to never skip putting your moisturizer on again, I don't know what will.
As for how Ta creates a makeup look that's stunning in person, but holds up just as well under the bright, harsh lights of a professional camera on set or on a red carpet, well, that's a little more involved, but it starts with one major thing: layering. "Layering is crucial," says Ta. "If you are trying to showcase a color, especially for red carpets, creating dimension with layering with different textures really can make your look pop."
After doing makeup for countless celebs on countless red carpets, you'd think it would be nearly impossible for Ta to choose a favorite. While that's certainly a hard ask, the makeup artist did, in fact, narrow down his favorite look of all time, and the winner's name rhymes with Smigi Wadid. Yes, the look Ta created for Gigi Hadid at the 2015 VMAs, shown above, was his all-time fave, and it's easy to see why. I mean, the sun-kissed complexion? The sparkling lids?? The sky-high lashes??? I die. @NYX and @Patrick, can we get a Masterclass specifically for this look? Please and thank you.
With the industry expertise of Ta and his Master classmates now at all of our fingertips thanks to NYX, budding pro makeup artists and beginners alike will be able to craft looks as drool-worthy as these on any canvas.
"We are thrilled to announce the launch of Masterclass," says Mishel Garcia, director of artistry at NYX Professional Makeup, via a press release. "With this groundbreaking program, our goal is to create the world's most comprehensive library of educational content by bringing offline and online artistry to life in a unique way. Our goal is to educate, inspire, and uplift aspiring makeup artists of all levels. Whether someone is just starting out in makeup artistry, or is already a professional looking to fine-tune his or her skill set, this educational program is here to reinforce NYX Professional Makeup's mantra of artistry for all."
So now, as you go off into the wild, marathon all of the NYX Masterclasses, and dive headfirst into the world of makeup artistry, Ta has some sound advice we would all do well to remember. "There is room for everyone, and as long as you are passionate in what you are doing, this job will never feel like a day of work in your life," he says. I couldn't have said it better myself.
Thankfully, the NYX Masterclass library is live right now on NYX's website, as well as NYX's YouTube page. However, if a digital teaching sesh with Ta isn't enough for you, you may be in luck. If you live in Los Angeles, NYX is putting on an in-person masterclass with Ta and Karen Sarahi Gonzalez (@iluvsarahii) on Thursday, Oct. 11, at Goya Studios. Keep your eye on NYX's Masterclass page to see where, when, and how you can attend future live classes near you.