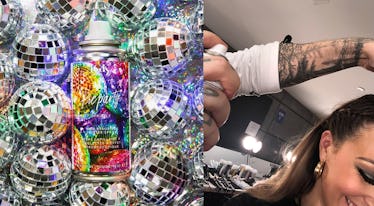 IGK's New Preparty Glitter Spray In "Sprinkle" Gives Hair A Rainbow Sparkle That's Runway-Approved
IGK Hair; Courtesy of Bella Gerard
If there's one beauty trend of the moment I can't help but love, it's tasteful glitter. Occasionally, this stuff often gets a bad rep for being too messy too messy and too much, once mocked by comedian Demetri Martin as "the herpes of craft supplies" (because it's impossible to get rid of.) However, beauty and haircare brands know consumers just can't get enough, which is why this IGK Preparty Hair Strobing Glitter Spray in Sprinkle review is one of many examples of glitter done right in the beauty industry. IMHO, too much sparkle is never a bad thing, but just in case, IGK has managed to harness the perfect amount for just a subtle sprinkle of shimmer.
The IGK Hair Preparty Hair Strobing Glitter Spray in Sprinkle ($16, sephora.com) is the brand's latest release to hit Sephora, but I actually got to experience it in all its sparkly glory early, about a month ago, behind the scenes at New York Fashion Week. I saw the product in action during prep for a show by Australian streetwear brand Nana Judy. The label is known for their effortlessly cool, urban vibes, so I wasn't surprised to learn that IGK Hair, an equally carefree-cool brand, would be styling the hair of big-time models including Winnie Harlow and Josephine Skriver, just to name-drop a few.
The IGK team had an arsenal of products backstage to ensure the models looked their best:
Keep in mind, the original Preparty Hair Strobing Glitter Spray in Silver ($16, sephora.com) has been around for a minute, but this was the first time the Sprinkle version was thrown in the mix. Unlike Silver, which is self-explanatory, Sprinkle has flecks of purple, gold, green, red, and silver glitter, and it's meant to give hair a diffused, luminous sheen, not unlike the effect of strobing a sparkling highlighter across one's cheekbones.
Immediately, I was like, "Hi, please ignore the models and focus on me, because I need that sparkle on my braid ASAP." Fortunately, the IGK team obliged and gave me a hearty spritz of Sprinkle:
Not too shabby, huh? Granted, my awkward selfie angling doesn't really do the shimmer justice, but as you can see in IGK's much more high-quality Instagram post, this stuff can really sparkle:
For the Nana Judy show in particular, the team didn't go as heavy-handed as they did on my braid or the above ponytail, instead opting to set the entire look with the sparkling spray, which gave the models' hair a super luminous sheen instead of a full-on glittery look. FWIW, though, despite the fact that a ton of product had been applied, I could barely feel the lightweight spray on my hair, and it didn't end up sticky or crunchy later.
Don't you think Josephine Skriver's strands backstage were on point? Preparty in Sprinkle is to thank for that lustrous shine!
Keep in mind, this isn't IGK's first product to nail that perfect balance of color and sheen. Along with the original Preparty, they've also got the Foamo Holographic Hair Foam ($22, sephora.com) available in Moon Rock and Meteor. However, the Foamo formula requires users to scrunch strands to work in the shade-shifting foam, so the Preparty sprays are a better option for setting a look overall, like the IGK team did during Fashion Week. Plus, this new spray doesn't just look good — it's good for the hair, too. Ingredients include sugarcane and vanilla extract to strengthen hair and add additional shine.
Personally, I've always been about the glitter life, but IGK's latest allows others to take on the trend without feeling like they're overdoing the sparkle. There's something to be said about a product that can give off two totally different looks: a mist of luminous sheen or a dramatic glittery finish, depending on how you choose to apply it. So long as the glitter trend continues on in the beauty world, you can catch me spritzing Preparty Sprinkle in both ways as often as I can.