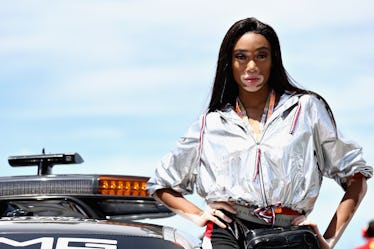 Winnie Harlow Responded To A Tabloid's Assumption That She Was Wearing Makeup & It Was Gold
Mark Thompson/Getty Images Sport/Getty Images
The life of a model may look quite glamorous and chic from the outside looking in, and while some in the industry may agree, the truth is that being in the public eye comes with its own unique set of drawbacks. One of the most obvious is having to deal with tabloids spreading fake stories. But thankfully, some celebs are always willing to face these rumors head on. On Thursday, July 26, Winnie Harlow clapped back at those assuming she wore makeup on a day out, so how about we just let her live now, OK?
In a story published by MailOnline, it was written that the star "highlighted her natural beauty with a palette of makeup that included a simple smoky eye and nude lip" in a photograph of her leaving the gym, which you can find here.
In typical Harlow fashion, the model took to Twitter to set the record straight, but she didn't seem to be too upset by the false, but flattering claims. "HAHA! When the tabloids assume ur wearing makeup when ur not," she tweeted. "I'll take that as a compliment." Now, to be fair, if you really do look at the photo, it doesn't appear Harlow is wearing any makeup at all. So while the nude lip assumption is understandable, a smoky eye does seems like a little bit of a reach. But one thing you can't deny is that the former America's Next Top Model star has gorgeous, glowing skin.
So what's her secret? Well, seeing as the 24-year-old told Elle back in July 2017 that she's "strict" when it comes to skincare, her incredible complexion comes as no surprise. While she didn't share her whole routine, she did reveal some of her favorite products. "I use Avene face lotion and water mist," she said. "And I wash my face with black soap from Shea Radiance ($10, shearadiance.com), I literally don't use any other soap ... After I wash my face, I use tea tree oil mixed with water as a toner."
As far as shutting down rumors goes, this definitely isn't Harlow's first time having to set the record straight — and her rebuttals aren't exclusive to tabloids. Recently, a nude photo of a woman with vitiligo — a skin condition Harlow also happens to have — began circulating on Twitter. One user saw the pic and replied asking the model if the photos were of her. A few hours later, the Toronto native put that person's theory to rest by responding, "So all people with Vitiligo look the same yea? Pretty sure this would be racism if it was 2Asian, 2black or 2white people. I definitely have photos in bathing suits & my skin looks nothing like hers, (as beautiful as her skin is.)"
All the wild rumors aside, the model doesn't seem to be too bothered with what some may wish to spew, as she celebrated her birthday (which is Today, July 27) in Miami on Thursday, July 26, shortly after celebrating her latest Elle Turkey cover. So say what you will about Harlow, but regardless, she's clearly just focused on living her best life.