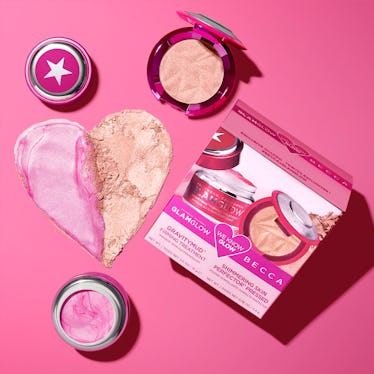 The New GlamGlow x BECCA Collection Is What Millennial Pink Dreams Are Made Of
GlamGlow/Becca Cosmetics
The beauty world's latest collaboration is here, and boy, oh boy, this one will not only have you looking good, but it'll have your skin feeling great as well. The GlamGlow x BECCA collection is officially here, and while you might be thinking that the two cult faves have only teamed up on a new, shimmering highlighter, think again, because this joint venture is all about skincare first and makeup second.
The collection includes GlamGlow's GravityMud Firming Treatment, which comes in a gorgeous, exclusive shade of millennial pink, along with BECCA Cosmetics' Shimmering Skin Perfector Pressed Highlighter that will leave you with a lovely rosy glow. Separately, these products would cost you $59 and $38, respectively, but the package only costs $32, which is definitely a steal.
Here's how it works: To give you a firming effect, you're going to first use GlamGlow's GravityMud, packed with marshmallow and licorice leaf to give you healthy-looking skin. Start by stirring the product around in the jar if needed, then apply a generous, but even, layer to clean skin, avoiding your hairline and eyebrows. After about 20 to 30 minutes, or once the mask has completely dried, start peeling off the mask starting at the edges of your face. Then, rinse off any remaining residue with warm water.
The mask will work to make the skin feel tighter, thus giving users a lifted look for "sexy contours." Afterward, apply BECCA's highlighter anywhere you'd like to glow, including the cheekbones, nose bridge, or directly under the eyebrow.
Let it be known as well that Becca's Shimmering Skin Perfector isn't just like any other highlighter. "This iconic formula is enriched with ultra-fine, luminescent pearls that absorb, reflect, and refract light to amplify your natural radiance," the brand said in a statement. "Unlike traditional pressed powders, this one-of-a-kind formula blends pigments with liquids, to create an unparalleled, creamy feel that applies like seamless silk that never cakes. The result is a high-shine, elegant finish that doesn't look glittery." Oué!
Of course, as with most things that sound too good to be true, this is a limited-edition collab, so if you're looking to glow up this summer, you better get your hands on it soon!
As briefly mentioned above, GlamGlow got its hands in the highlighter game. Its new GlowPowder Glow Palette offers three hues, "Pearl Glow," "Nude Glow," and "Sun Glow," to match the company's GlowStart Moisturizers, so there's sure to be something for everyone. And in true GlamGlow fashion, the palette's formula is infused with ingredients that will keep your skin healthy, like hyaluronic acid to keep the skin hydrated, as well as Brazilian Golden Clay to help with collagen formation. Fortunately, this amazing product is a part of the beauty giant's regular collection, and won't go out of stock anytime soon.
But as far as the GlamGlow x BECCA collab goes, I personally can't wait to give it a try. Contouring is definitely not my strong suit, and if my skin can look like that naturally, then it for sure seems like a win-win situation to me!