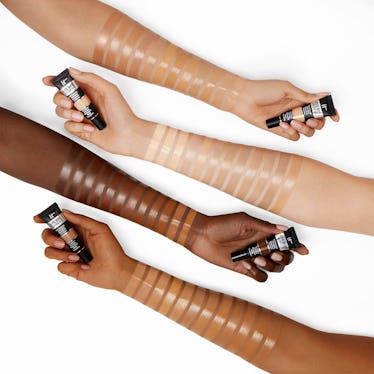 IT Cosmetics' Bye Bye Under Eye Concealer Now Comes In 48 Glorious Shades
IT Cosmetics
The beauty industry has turned a over a new leaf. Just about every major brand now has inclusion and diversity as top priorities — and IT Cosmetics' Bye Bye Under Eye line is now no different. Boasting 48 radiant shades, this full-coverage concealer now offers an option for just about anyone looking for their next go-to product.
This concealer won't just get rid of your dark circles. Its unique formula offers anti-aging peptides, as well as a mix of vitamins, antioxidants, hydrolyzed collagen, and hyaluronic acid to keep your skin hydrated, dewy, and smooth. The best part is that the product also offers IT's Expansion Proof Technology, which means you won't have to worry about the product creasing and cracking once it has dried. Finally, the line also offers the Airbrush Dual-Ended Flawless Complexion Brush to make application easier and to give you the perfect finish.
If you have yet to test out the brand's best-selling product, you'll probably be happy to know that it was developed with plastic surgeons to ensure that it was able to tackle issues like under-eye bags, redness, hyperpigmentation, broken capillaries, and other types of discoloration. And in clinical tests, 100 percent of user's skin showed improved skin barrier repair, while 86 percent had improved hydration, and another 79 percent said the product gave them younger-looking skin, according to the brand.
At the top of the year, IT got into some hot water after fans weren't too happy about their Bye Bye Foundation line's shade range. Out of a total of 12 shades, only three appeared to work for people with darker skin, which in 2018 (and, frankly, always) is a big no-no.
In response to the backlash, IT issued the following response to Allure via email:
Bye Bye Foundation is the first-ever full-coverage moisturizer from IT Cosmetics. It's a skin-care product, infused with seven key fermented ingredients plus SPF 50 physical-only sunscreen and full-coverage pigments. Typically SPF moisturizers with physical-only sunscreens have only been possible in a few shades — and at IT Cosmetics we've spent the past 2 years creating 12 skin-tone-adapting shades for this moisturizer (3 Light, 3 Medium, 3 Tan, and 3 Rich). And we continue to work hard to challenge this further.
A brand rep later told the publication, "Due to the physical-only SPF in the product, we're not able to go darker than our deepest shade. Expanding our shade range is a top priority and we are working on it!"
The same could also be said for the brand's concealer before its expansion as well. While the product always had stellar reviews, with only six shades available in the original line, it was definitely lacking when it came to inclusion. That said, it's so great to see that IT has learned from their consumers' feedback. The brand even launched a separate Instagram page called @itsyourshadefinder, featuring a diverse set of models, to help customers discover their perfect concealer shade match.
IT Cosmetics' expanded Bye Bye Under Eye Full Coverage Anti-Aging Concealer line is available right now at ulta.com and in ULTA Beauty stores starting Aug. 26. So be sure to get yours right away!