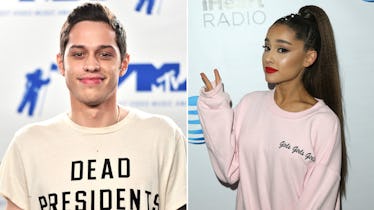 Ariana Grande & Pete Davidson Are Sick Of Being "Attacked," Apparently & I Don't Blame Them
Alberto E. Rodriguez & Jesse Grant/Getty Images Entertainment/Getty Images
It was a cold day when Pete Davidson deleted all of his Instagram photos. It was even colder when Ariana Grande removed hers, too. It was all-out mass hysteria when Grande toyed with leaving Twitter, though that never really materialized. Thank goddess. Still, Grande and Davidson's decision to step away from Instagram has fans concerned, and the reason behind their hiatus is a real bummer. These new details about why Pete Davidson and Ariana Grande left social media to show how deeply negative trolls can really affect people — even celebrities. Like, even the ones who make people laugh for a living and are truly crushing the music industry.
The fact is, all eyes have been on Grande and Davidson's relationship since they first announced it at the end of May 2018. Right away, they made it clear they are absolutely wild about each other. At first, the public was fascinated, delighted, and entertained by their courtship. Fans ate up their matching tattoos, lovey-dovey photos, and rocket-fast engagement. Alas, just as quickly as the love fest started, so did the hater parade. Pretty soon, Davidson and Grande found themselves playing defense from criticism coming at them from all angles. Davidson was blasted for a joke he made about the horrific Manchester attack at Grande's concert in May 2017. There was heat over her wearing his late father's New York City Fire Department pendant. Grande was blamed for her ex-boyfriend Mac Miller's car accident and subsequent DUI. And most recently, trolls misconstrued a sweet comment Davidson left on a photo of Grande and her late grandfather as him using the sensitive post as an opportunity to flirt with his fiancé.
Now, based on new reports, it's clear the two celebrities have simply had enough.
A source close to Grande told People magazine, "They're just tired of being attacked. They don't get why there's backlash when it's supposed to be a really happy time for them. Pete especially has been getting a lot of hate from fans. It's been hurtful, and he's actually pretty sensitive." The source added the couple "doesn't want drama," and decided it is "easier to cut things off for now instead of being on the defensive all the time."
Fair enough.
An insider closer to Davidson also tells People Davidson is "now in a good place" away from social media and that he's focusing on his upcoming marriage. "He's decided to focus on his relationship and how happy they are instead of on all of the haters and naysayers," the source said. "They're still very happy and looking forward to getting married. He just doesn't need all of these trolls bringing him down." Elite Daily reached out to both Grande and Davidson's teams for comment on the report, but did not hear back by the time of publication.
While I have a funny tingly feeling their Instagram hiatus can't last forever, I still feel an emptiness when I open up the app before falling asleep.
I'm just a girl, standing in front of my Instagram feed, asking it to show me Ariana Grande and Pete Davidson updates.
Check out the entire Gen Why series and other videos on Facebook and the Bustle app across Apple TV, Roku, and Amazon Fire TV.