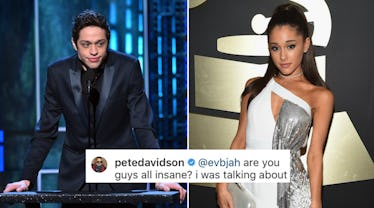 Pete Davidson Deleted His Instagram After A Tense Confrontation With Haters & It's So Sad
Kevin Winter & Larry Busacca/Getty Images Entertainment/Getty Images
Hold the phone. Am I seeing what I think I'm seeing? Why did Pete Davidson delete his Instagram? Is everyone OK?! The Saturday Night Live comedian seems to have wiped his photo history clean just one day after a new wave of criticism hit him after commenting on his fiancé Ariana Grande's photo of her late grandfather. Davidson wrote, "omg what a cutie," on the black and white picture shared by the "God Is A Woman" singer and fans freaked out. According to Davidson, he was referring to Grande's grandfather, but fans thought he was inappropriately taking the opportunity to flirt with his fiancé in the comments section. Now, it seems he's off of the social media platform altogether.
Nobody panic... BUT, WTF?
Before pulling the plug, Davidson commented back to haters who were jumping to the wrong conclusion about his comment. He wrote, "Are you guys all insane? I was talking about how cute her grandpa is. What's wrong with that? You guys will really look for anything to attack people. It's sad." This is, like, the billionth time Davidson's had to defend himself surrounding issues fans have with his relationship with Grande. He's been under attack by Grande's fans for mental health reasons, making an inappropriate joke about the horrible Manchester attack at her concert, and for "re-gifting" her with his late father's FDNY pendant. It's possible he's just had enough.
While I was busy furiously stalking Davidson, I also happened to notice Ariana Grande's Instagram appears to be malfunctioning as well. Half of the time I could get her photos to load, and the other half I'm met with an "error" message. Some fans are wondering if this could mean she deleted all of her pictures too, but at the time of publication, it's not clear what is actually going on with her account.
According to US Weekly, she definitely did disable her comments section. She also tweeted the following message just after Davidson's photos disappeared.
the energy u put out is exactly what u get back, please create a beautiful life for yourselves
Suffice it to say, Twitter is freaked out.
These two have been coming on strong on social media since they first announced their relationship and it's been nothing but fun and entertainment trying to keep up. Now, fans don't know where to turn. How will they know if they get more matching tattoos? How will they know if they're hanging out somewhere doing cool celebrity things? How will they know if Grande and Davidson still love each other if they can't watch them interact on social media?
You guysss, we're lost without your Instagram feeds!
Knowing both Grande and Davidson have a history of wearing their emotions on their sleeves (aka their social media platforms) fans will hopefully have an update soon. In the meantime, I am over here hitting "refresh" like it's my job, which it kind of is... TBH.
Check out the entire Gen Why series and other videos on Facebook and the Bustle app across Apple TV, Roku, and Amazon Fire TV.