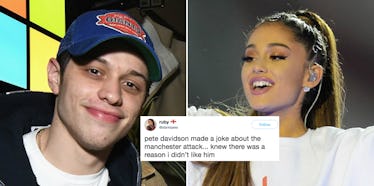 Fans Are Absolutely Furious At Pete Davidson Over His Reported Manchester Attack "Joke"
Slaven Vlasic/Dave Hogan/Getty Images/Twitter
Fans have been pretty supportive of Ariana Grande and Pete Davidson's relationship since news of the couple first came about in May, and they've been especially supportive of their flash engagement as well. But now, they're starting to question things because of one of Davidson's reported past jokes. Pete Davidson's reported Manchester attack joke about Ariana Grande in 2017 is not sitting well with fans at all. Elite Daily reached out to Davidson's team for comment about the reported joke, but did not hear back by the time of publication.
The reported joke was apparently part of one of Davidson's old comedy sets before he and Grande started dating. The Mirror reports the joke was told at the Laugh Factory in Los Angeles about five months after the attack on May 22, 2017. According to Metro, the joke in question said that Grande must be aware of how famous she is "because Britney Spears didn't have a terrorist attack at her concert." Twenty two people died in a terrorist bombing at Grande's concert at the Manchester Arena on May 22, children included. People on Twitter are now saying that if Davidson really did tell that joke, it's unacceptable. Elite Daily reached out for confirmation about whether Davidson told the reported joke, but did not hear back by the time of publication.
Representatives for Davidson said in a statement to Metro that "Pete is a comedian," so no topic is too sensitive for him to joke about. Davidson's representative told the site, "No subject is off limits and that includes jokes about his father and 9/11." Davidson's father, Scott Davidson, was a firefighter who died in the terrorist attacks on September 11, 2001. Davidson is originally from Staten Island, New York.
The mother of one of the victims of the Manchester attack, however, has spoken out against Davidson's reported joke, saying it's in extremely bad taste and she thinks he should issue an apology. Charlotte Hodgson, mother of 15-year-old Olivia Campbell-Hardy who died in the attack, told the Mirror, "This is heartbreaking and outrageous." She continued, "For anyone to joke about this situation is disgusting and I think he should publicly apologize for it."
She continued,
The families will find it equally as disgusting. We don't need jokes about it, there have been plenty around, and it's heartbreaking to hear every day. But for someone so famous to be doing it and now to be with Ariana, it's outrageous. I think she would be horrified too.
Fans are fuming because of this reported joke.
They're tweeting comments like, "Pete Davidson made a joke about the manchester attack... knew there was a reason i didn't like him," "If that lad Pete Davidson really did crack jokes about the Manchester bombing incident then he better start speaking to Ariana cause there is simply no excuse for it," and "I'm so disgusted." Grande hasn't responded to any of this yet. It's possible that she knew about the reported joke before it surfaced since they are engaged, but fans won't know the context until/if she chooses to give it. Elite Daily reached out to Grande's team for comment, but did not hear back by the time of publication.
Grande and Davidson's relationship became public information on May 21, 2018 — just one day before the one-year anniversary of the Manchester attack. E! News originally reported the story. The report cited an anonymous source detailing the couple's new relationship. "It just started and is casual," the source told the outlet. News of Grande's breakup with rapper Mac Miller had come to light just a few weeks before, but the source told E! News "the relationship had been over long before." Grande and Miller reportedly were broken up by the time of Coachella 2018.
Davidson and Grande's relationship became public knowledge on May 22, and on June 11, their engagement was announced. Us Weekly originally reported the news, saying an anonymous source revealed that "they are a perfect fit." Davidson confirmed the engagement rumors on June 20 during an interview on The Tonight Show With Jimmy Fallon in which he couldn't stop gushing about Grande despite being there to promote his new movie Set It Up.
"They are not rushing to get married," the insider told Us Weekly. "Their friends are really excited and supportive."
Raise your hand if you're low-key nervous of what's in store for this relationship.